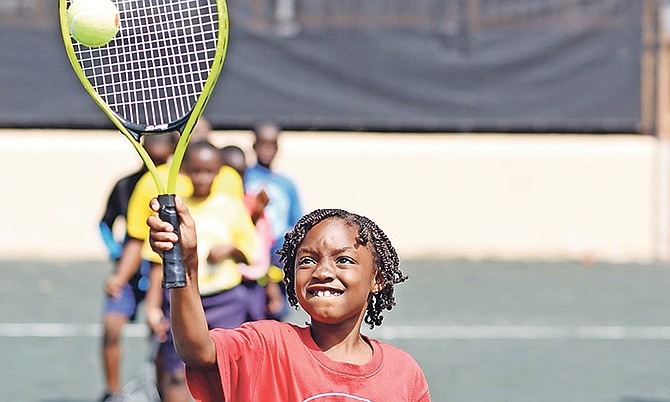 By BRENT STUBBS
Senior Sports Reporter
bstubbs@tribunemedia.net
WITH a goal of trying to get the sport into as many primary schools as possible, Impact Tennis Academy completed its pilot programme by hosting the third grade students of Centreville Primary to a full day of activities at the Balmoral Club Tennis Courts on Sandford Drive.
Ricardo Demeritte and Owen Forbes said they were delighted in what they saw after working with students at their school for the past six weeks, teaching them the basic fundamentals of the game.
"Our aim is to implement tennis into the primary school curriculum," Demeritte said.
"We started with just a one-week programme and it was extended to six. This is the culmination of the six weeks with them actually getting a chance to get on the court.
"As you can see, the kids love it. They want us to stay as long as we can, so that's our goal as we stretch this programme over the entire country. We want to touch at least 113 schools. That's our goal."
Forbes said he and Demeritte Jr had this programme on their agenda for quite some time, but they just decided to make it a reality.
"Our goal is simply to reach as much kids as we can and teach them tennis," he said.
"Some of them have never ever seen a tennis court. Some of them asked if we brought sand to the court and painted it gray. It just shows how little they know about the game. So our job is to get out there and expose these kids to tennis at a very young age."
From what he saw, Forbes said there was a lot of agility and natural ability.
"It's just a matter of training them and giving them the skills to play the game," he said. "Kids are enthused. They haven't stopped moving since they came out here this morning. So we're really excited about what we saw here today."
Yesterday's session was for three hours. After taking a break, they were fed and then bused back to school.
Shirlene Moss, one of the physical education teachers at Centreville Primary, said the programme came in the right time for her children.
"It provides them with an exposure that they would not have had at this time, so I am very grateful to the organisers because they were very excited to come out and be a part of it," Moss said. "This was first thought as a unit at school and I asked Ricardo to assist me.
"But I'm hoping that this will force an interest in the kids and they will want to continue in the sport. Even if it's just one of them, at least we would have sparked an interest in our school.
"That's my goal. I want to see someone getting involved in playing the sport."
Two of the students interviewed were more than delighted to be a part of the programme.
"I felt pretty good," said Jezelle Saint Fleur, an eight-year-old student who enjoyed it more than when they went through the theoretical sessions at school.
"We learn how to toss the ball and to hit the ball with the racket. We also learn how to cooperate with each other."
And Juliano Todd, another eight-year-old, said it was a lot fun.
"We all learn that no matter whether we win or lose, we are all still friends," he said.
"I learn that when they throw the ball, we have to hit it. I learn that where they have the cones, we have to get the ball there. It makes sense that we all play together and be one family."
Forbes said they are contacting a number of other government schools in New Providence, but he couldn't say where they will stage their next programme.