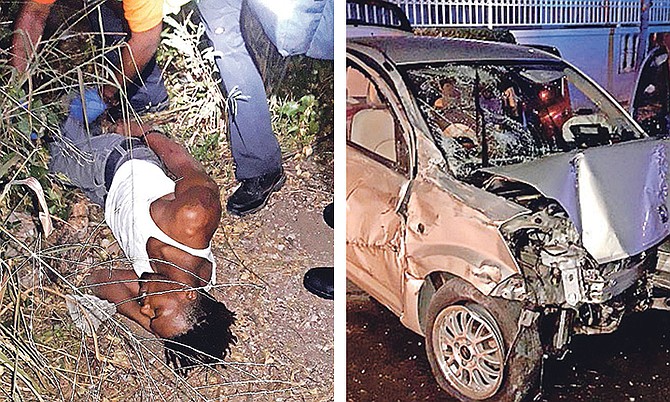 TWO suspected armed robbers, one of whom was shot by police, are in hospital after crashing into a utility pole as they attempted to evade arrest.
According to police, shortly before 9pm Saturday officers were alerted by concerned residents in eastern New Providence of a suspicious Nissan vehicle in the area. Police officers, who were on patrol in that area, responded and spotted the vehicle on Prince Charles Drive and ordered the vehicle to stop.
The occupants refused, sped off and eventually stopped when their vehicle collided into a utility pole in the area of Super Value, Winton Meadows, police said.
One of the men was immediately taken into custody. The second suspect ran into nearby bushes, where he confronted an officer with an object, police said.
"He was shot to the leg and taken into custody," police said in a statement. "The vehicle was searched and a quantity of marijuana was recovered. Both men were taken to hospital and are listed in fair condition, under heavy police guard. Police suspect the men to be involved in a number of recent armed robberies."
The seized drugs weighed 1.2 pounds.
Police are also asking for help in solving an armed robbery that occurred Saturday night shortly before 8pm.
A woman said she had just arrived home in Marigold Estates when she was approached by a gunman who robbed her of her cash and other items before getting into a Nissan vehicle and speeding away. Investigations continues into this matter.
It is unclear if the suspect in this incident was involved in the later car chase with police.
Investigations continue.