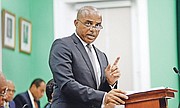 MINISTER of National Security Marvin Dames announced the government will establish a multi-agency law enforcement coastal security programme to mitigate threats against the country's borders and national security.
His announcement came at the Royal Bahamas Defence Force's annual church service on Sunday, which was followed by a march.
"When expanding transnational criminal networks are taken into consideration against the backdrop of The Bahamas' geographical challenges and ever-stretching resources, the need for even greater collaboration with local and regional partners to minimise their threats to our national security is clearly evident," Mr Dames said.
"To mitigate these threats, our government through one of its policy directives is moving towards the establishment of a multi-agency law enforcement coastal security programme to include the RBDF, RBPF," and other officials.
"This multi-agency program, will be responsible for conducting onshore/offshore patrols. We must better secure our borders," he said. "The status quo is no longer acceptable."
He said the government will also make provisions for the development of a multi-law enforcement drone programme, with the RBDF as the lead agency. Programme participants will include the police force, customs and immigration officers, and the Bahamas Department of Correctional Services.
He said the drone programme will commence during the second half of this year.