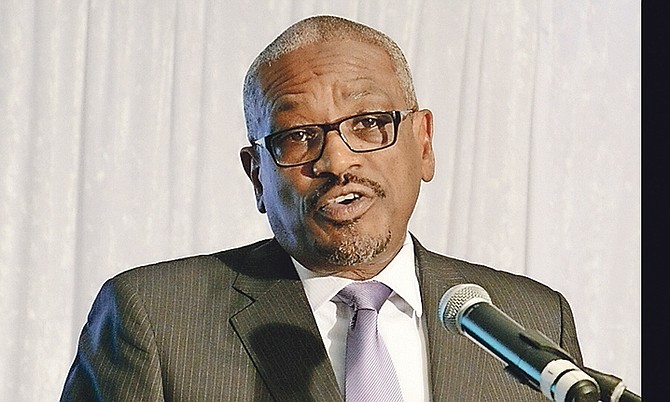 By RASHAD ROLLE
Tribune Staff Reporter
rrolle@tribunemedia.net
PRIME Minister Dr Hubert Minnis confirmed yesterday that he sent a magistrate to Inagua on Tuesday to convict and facilitate the deportation of more than 200 Haitian migrants who were caught illegally trying to enter the country.
The unprecedented act will now become standard practice, he said, adding: "There's no reason for them to come to Nassau. Wherever they land, they'll get a fair hearing and back to Haiti they will go."
Dr Minnis, as the acting minister of immigration, told The Tribune he "ordered" the vessels the Haitians used to be sunk.
He said: "A magistrate and all necessary tools and equipment was dispatched to Inagua yesterday (Tuesday) and they had a hearing and all 230 pleaded guilty, so they were sent back to Haiti for illegal landing in The Bahamas."
He added: "A few were complaining that they were sick so I sent a doctor down and the doctor knows through medical practice that if an individual is sick, if they need to be hospitalised, you take them to the nearest health facility. Haiti's health facility is nearer to Inagua than Nassau's so they need to be hospitalised in Haiti. Nassau is too far.
"I ordered the vessel be sunk so the vessel was sunk."
The Immigration Act empowers the government to impose a fine of not more than $300 and/or a prison sentence of 12 months on anyone found guilty of landing in the country illegally.
The act also empowers the director of immigration to order the removal of such people from the country before their sentence expires.
In a statement yesterday, Attorney General Carl Bethel said the 230 people were deported from the country yesterday after what he called an historic exercise.
Forty-three of the deportees were already "awaiting deportation pursuant to a deportation order executed by the substantive Minister of Immigration Brent Symonette," he said.
"The deportation order made by the prime minister followed the finding by Chief Magistrate Mrs Joyann Ferguson-Pratt, who held court in Mathew Town, that the migrants had illegally landed after they all pleaded guilty. The migrants were conditionally discharged on the condition that they should never enter the Bahamas illegally again.
"This is an historic first in the history of the Immigration Department where judicial oversight and evaluation of the circumstances of each individual immigrant was effectively implemented in the context of a mass immigration event; and sends a clear signal to any intended illegal entrants to the Bahamas, the lawful authorities will move expeditiously in the future in accordance with law to enforce the immigration laws and thereby defend the national sovereignty and territorial integrity of the Commonwealth of the Bahamas."
The migrants apprehended Sunday came from three separate operations by the Royal Bahamas Defence Force (RBPF).
The government's handling of this recent wave of migrants comes against the backdrop of pressure the government has faced from immigration activists who have challenged in court longstanding immigration practices.