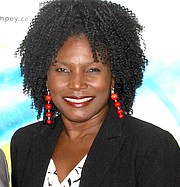 By BRENT STUBBS
Senior Sports Reporter
bstubbs@tribunemedia.net
ONE of the greatest honours for any athlete is to get a chance to represent their country in a major international competition before their home crowd.
In one of the most defying performances at the Thomas A Robinson Stadium in 1984, Pauline Davis accomplished such a feat when she powered the Bahamas to its second consecutive victory over Jamaica in the CARIFTA Games at the original Thomas A Robinson Track and Field Stadium.
As she went on to become the third Bahamian to earn the Austin Sealy Award as the most outstanding athlete at the biggest junior regional competition in the Caribbean, it was the last time that Jamaica fell victim to the Bahamas, having dominated the Easter holiday spectacular ever since.
Davis, who went on to achieve a stellar collegiate career at the University of Alabama to getting on the podium as a multiple individual and relay medallist at both the Olympic Games and the IAAF World Championships to now serving as an IAAF councilwoman, it was a Games she will never forget, especially considering the fact that the Bahamas will host the games for the eighth time this year.
"There's nothing I liked better than performing before my Bahamian crowd," Davis said. "I live for it, I love to feed off their energy. For me, it was never an issue. It was a golden opportunity, a golden moment. I worked very hard and, at the time, I had a major injury, but a lot of people didn't know it.
"They told me that my athletic career was done, but my coach Neville Wisdom had me in the salt water morning and afternoon. He worked with me. But I missed the CARIFTA trials and he requested a special trials for me after the fact. I did that and they placed me on the team as an alternate."
That was how the story really unfolded.
"The night before the 100 metres heats, I was told that I'm going to be running to get ready," she recalled. "I was beside myself and I was a little bit nervous. I haven't been on the track running because I was in the salt water for weeks recuperating. But I was so excited to be competing in front of my home crowd.
"I've been to Jamaica, I've been to Guadeloupe representing the Bahamas at the CARIFTA Games, so this was my shining moment.
"I felt at the time that I was going to miss this moment. That's why I worked so hard in that salt water and so when I went out there running in the 100m that morning, there was a lot of people in the stands cheering for me."
It got her the inspiration to advance to the finals and that she did something extra special.
"I broke the world junior record at the time, but I was very disheartened at the time after Amado Francis checked it out and discovered that it was a record only to find out that the officials had destroyed the photo finish, which caused the record not to official," Davis pointed out.
"Even though I didn't get the record, I was still motivated, I was stilled pumped up and thankful just to be on the track because I remembered how I didn't get to run in the trials, but I was there. I went on to win the 200m and then I was asked to be a part of the 4 x 4 relay team."
What happened then was just unbelievable.
"I was told that it was the late Thomas Augustus Robinson who told the team officials to go get me to run in the relay," she reflected. "They came and told me that I had to run in the 4 x 4. But they kept switching me from leg to leg until it was decided that I would run the anchor leg after we were tied with Jamaica for the lead.
"They told me that everything was resting on my shoulders, but I was so motivated, I was ready. All I could remember was when I got the baton. I completely blocked out everything. I didn't remember what I did exactly, but I didn't realize that I had ran down Jamaica, Trinidad and Barbados to get the gold until they hoisted in the air."
That stunning fourth place run on anchor for Davis that turned into gold was one of the greatest come-back victories ever witnessed in a track meet in the Bahamas. It also propelled the Bahamas to back-to-back victory after strongwoman Lavern Eve was the star of the games the year before when the Bahamas won in 1983 in Martinique. It was also Eve's second straight Austin Sealy award, having won it 1982 in Jamaica.
But for Davis, who was presented with her prestigious Austin Sealy award by the late Prime Minister Lynden Pindling during the closing ceremonies, it was a dream come through.
"It was a crowning glory for me as people just rushed me and hugged me after the performance," Davis stated. "They lifted me up and carried me on the podium when my name was called as the Austin Sealy winner. To receive the award from Sir Lynden was a dream come through for me."
That capped her junior career, although she was eligible to compete in Barbados in 1985, but she opted to skip the trip and concentrated on the beginning of her collegiate year at Alabama and her senior debut in 1986 when she captured the gold in both the 100 and 200m at the Central American and Caribbean Games in Santiago, Chile.
"We beat Jamaica in 1983 and we beat them again in 1984 at home. That was a very proud moment for me because I was a part of both of those victories," Davis said. "We had just lost to Jamaica in Jamaica in 1982 when they were taking the races with first and second in most cases.
"We sucked it up and we wowed that it would never happen again. That's how we went on to win two straight in Martinique and here at home."
Since then, the Bahamas hosted the Carifta Games in 1992, 2002 and 2013, but Jamaica had already regained the crown and they went on to dominate, a far cry from the previous when it was hosted here in 1976, 1978 and 1981 when it was a dog fight right down to the very end.
Those days are gone, although the Bahamas would have had three Austin Sealy winners to follow Davis, inclusive of Debbie Ferguson-McKenzie in 1995, Anthonique Strachan in repeat performances in 2011-2012 and Shaunae Miller-Uibo in 2013. All of those feats were set from 1978 with Maryann Higgs earning the second award ever presented. The first was given to Bermuda's Debbie Jones in 1977.
While we have seen some outstanding performances, not just by the women mentioned above, but a lot of athletes at each edition of the games, the only question that continues to linger with each passing year is will the Bahamas be able to regain its prominence over Jamaica?
That question was put to Davis, who was convinced that it can be done.
"It's going to take a whole lot of effort," she said. "I believe that when we go back to focusing on the National High School Championships more than we do the BAISS and GSSSA, we will do it. The country has to come first. We have to make sure that the High School Nationals is not so close to the Carifta trials or to the Carifta Games because we have to put our best foot forward.
"As a country, we have to always have to be our very best. If we get beat at our very best, then that's acceptable. But we can't go to the meet with mediocrity and expect for our athletes to perform well. We have to look at the schedule and to fix the schedule because we can't put our athletes at a disadvantage by hosting all of these meets so close to the Carifta trials and the Carifta Games."
Looking at the performances and the low number of qualifiers so far, Davis said it's simply because the athletes are tired after being ran down to the ground competing in so many meets just before the trials that is set for this weekend and the games in two weeks over the Easter holiday weekend.
"At some point, we have to decide what is important and as far as I'm concerned, the most important thing is to put on the colors of our national flag and to bring the glory home," she insisted. "At some point, we have to understand that we have to put aside our personal agendas because the Bahamas is bigger than all of us.
"The Bahamian people want to come here and to cheer on our athletes, but I'm going to be frank with you, a lot of our athletes are very tired. I'm just hoping that they can dig deep and find that extra energy that I did and some of my team-mates did when we last won the games to do what they need to do because we can't get embarrassed. We have to show that the pride run deep in the 242."
Only time will tell if the Bahamas will regenerate some of that glory from yesteryear.