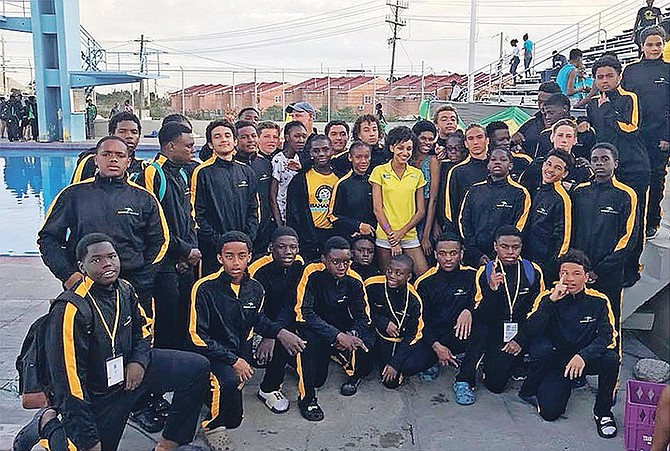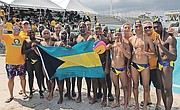 By RENALDO DORSETT
Tribune Sports Reporter
rdorsett@tribunemedia.net
The Bahamas' water polo programme continues its trend as one of the elite performers in the region with another series of championship performances at CARIFTA.
The Bahamas closed out the four-day competition at this segment of the 33rd CARIFTA Aquatics Championships in Kingston, Jamaica, yesterday with a trio of gold medals.
The Bahamas defeated the host country in the U-14, U-16 and U-19 boys' finals at Kingston's National Stadium.
The U-14 team began the morning with a dominant 16-2 win over Jamaica. Dominic Beneby led the Bahamas offensively with five goals scored. Dominic Demeritte scored four, Oliver Roberts scored three, Atuwan McKenzie added two while Remington Minnins and Akeil Smith each added one goal apiece.
The full roster of the U-14 team also included Jayden Fernander, Skyler Dean, Jayden Seymour, Madisson Deveaux, Kaitlyn Williams, Wesley Ingraham and Joshua Gibson. They defeated Jamaica in the first game of the tournament 18-5 and followed with their most lopsided win, 21-3 over Curacao.
The U-16 Boys successfully defended their CARIFTA title with a 17-3 win over Jamaica.
Gabriel Sastre outscored Jamaica on his own with a game high six goals to lead the list of seven Bahamian scorers. Gabriel Encinar and Thomas Illing each scored three goals, Nicholas Wallace-Whitfield scored two while Damian Gomez, Jelani Grant and Alex Turnquest each scored a single goal.
Team Bahamas also included Thor Sasso, Jahkai Gray, Liam Mills, Mataeo Ferguson, Aidan Johnson and Gabriel Encinar.
In game one, the Bahamas opened competition with a 20-2 win over Barbados. They also defeated Jamaica 12-1 and earned a trip to the final with a 22-5 win over Curacao.
The U-19 Boys team capped the competition and exacted revenge on Jamaica for last year's loss with a 13-10 win. Sastre and Saequan Miller both scored four goals, Wallace-Whitfield scored three, while Loron Bain and Turnquest also scored goals.
Other team members included Joshua Knowles, Adonis Sasso, Sean Knowles, Johnathon Demeritte, Adrian Burrows, Michael Moore, Kurdero Major and Kurdaz Major.
Day one featured a 19-12 win over Barbados but the team suffered a 17-9 loss to Jamaica in game two. They advanced to the title game with a 12-11 win over Barbados to set the stage for the rematch against Jamaica.
Laszlo Borbely was the head coach, assisted by Krisztian Kelemen and Carl Illing. Brenna Turnquest served as the team manager.
The U-16 and U-14 continued their momentum after they recently won bronze medalists at the South Florida International Water Polo Tournament in Coral Springs, Florida
The SFIWP had competitors from Trinidad, Puerto Rico, Texas, California, Washington DC, Missouri, Florida and the Bahamas.
Bahamas Aquatics continues to be a force in the region and Water Polo has followed suit with the CARIFTA Swimming success by claiming their second consecutive regional title.