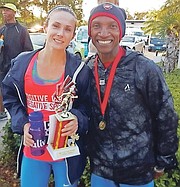 TRAINING partners Suzanna Eneas and Ryan Bethell will get the rare opportunity to carry the Bahamian flag at the prestigious Boston Marathon.
The duo will compete in the 122nd running of the annual 26.2 mile event in Boston on Monday, April 16.
In preparation for the event, the pair participated in the 11th Annual Uncle Lou 10K Fun Run/Walk Race on Saturday where they were first overall in the women's division and third in the men's respectively.
"It's a sign that my training is coming along and I'm where I'm supposed to be," said Eneas, who turned in a personal best time of 44 minutes and 19 seconds to repeat as champion of the early riser.
"I ran six miles to get to the start of the race and I ran the race and I will be running six miles to get back to where we started this morning."
The 39-year-old back-to-back champion of the 10K race that was organised by the Alumni Association of St Augustine's College will be leaving on April 13 with Bethell to compete in her first international marathon.
"This will be my third marathon," said Eneas, who qualified during her inaugural running of a marathon, "would you believe it," at the Marathon Bahamas in January, 2016 when she came in third behind two Americans as the first Bahamian female finisher.
"I just want to finish because everybody there will be faster than me. So I just hope to do a personal best time. If I don't, I will be grateful just to be there and to enjoy the experience."
Bethell, who also qualified at Marathon Bahamas, will be making his debut in Boston, although he has competed in five other marathons. He actually qualified for Boston two years ago when he participated in Atlantic City. Bethell, a 50-year-old who only started running about three years ago, also participated in a marathon in Toronto, Canada, but he's eager to see how well he will fear in Boston.
"It's one of the six world majors, so I really surprised myself when I qualified for it," he pointed out. "It's the hardest one to get in, so I was very proud of myself when I qualified for it.
"I am looking forward to it because it's a very hilly course and we have been doing a lot of hill training. That is why we decided to run in this road race this morning. So we are looking forward to doing very well in it."
As a part of their training, Bethell said he and Eneas have been on a 16-week programme where they were running almost 700 miles and with a month left, they will taper off with two weeks so they can be properly prepared for race day.
"To know that we are going to represent our country and be the only two Bahamians there making it happen is really exciting," Bethell stated.
"We're training partners and so to know that we are going out there after doing everything together, we just need to stay healthy. For both of us to be going to Boston to represent the country is the icing on the cake."
To qualify for Boston, Bethell, an electronic system contractor and an ordained Minister of the Gospel, had to run under three hours and 30 minutes and he did it in 3:25.
Eneas, an office administrator at My Ocean Limited and the wife of 1992 Olympic swimmer and attorney Timmy Eneas, did 3:36 as she went under the qualifying time of 3:40.
They both hope to improve on their times as the Bahamian flag bearers in Boston, which is a part of the Abbott World Marathon Majors, a series of six of the largest and most renowned marathons, joining the list that includes Tokyo, London, Berlin, Chicago and New York City.