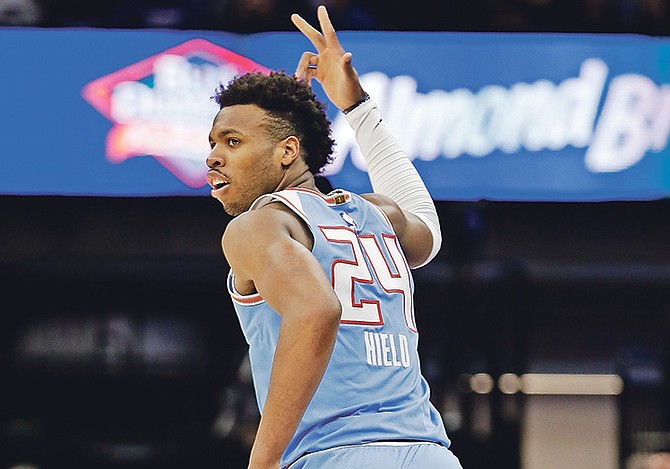 By RENALDO DORSETT
Tribune Sports Reporte
rdorsett@tribunemedia.net
Buddy Hield is playing the most efficient basketball of his young career and despite the small sample size, his recent play suggests an upward trend in his numbers across the board.
Through his last three games, Sacramento Kings guard is averaging 23 points 6.3 rebounds, 5.3 assists in 30 minutes per game. He's also shooting 57 per cent from field and 48 per cent from three-point range.
In his most recent performance, Hield finished with 23 points, six rebounds and six assists in a 103-97 loss on the road to the Utah Jazz. He shot 9-15 from the field and 5-8 from beyond the arch.
Hield is a high-volume scorer but for the last two games he has led the Kings in assists. The previous night, he posted 22 points, seven rebounds and a team high seven assists in a 98-93 win over the Golden State Warriors. His scoring streak began on March 14 with 24 points and six rebounds in a 123-119 win over the Miami Heat.
Hield told Jason Bee of the Sacramento Bee that his focus was now on ball movement and being viewed as a playmaker, rather than a volume shooter.
"Just making plays for my teammates and don't think selfishly, about myself. That's going to open more doors and that's helped me the last five or six games, and I'm going to keep building on that," Hield said. "You watch guys like Bogi and then finish the game with 15 points and have eight assists. They make plays for teammates and still have a great game and I think that frees you up, that makes you feel better as a player, that you're making plays."
He has scored at least 18 points in five of his last seven games. He has upped his scoring average to 13 points per game but looks to expand on his role as a distributor.
"Teams are going to play me regardless because of how I shoot the ball," Hield said. "Just making the right play, don't make the tough play, make the right play, the easy play and just go out there and execute everything. I know teams are going to play me hard, I've just got to make the easy play and the right play. Don't worry about Buddy trying to get points or trying to score, but make plays for my teammates and then other things will open up for me."