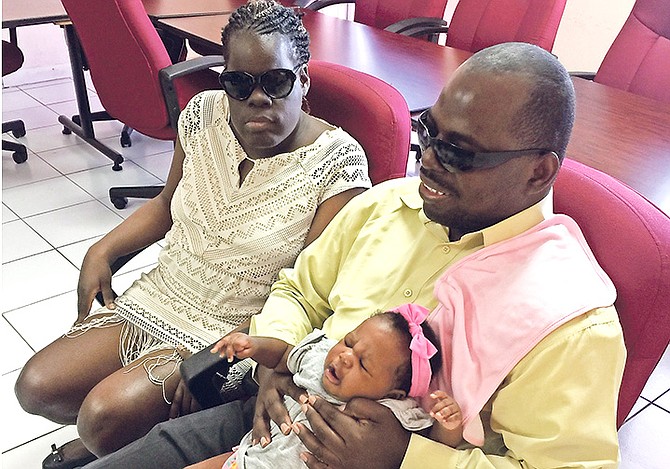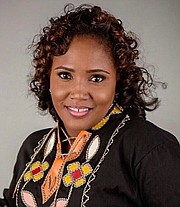 By FELICITY INGRAHAM
They say love is blind. When in love, sometimes nothing can stop two people who desire to spend the rest of their lives together. Antoine and Abbie Munroe, who are both blind, have brought truth to this old adage in a positive way. Their testament of love is one so strong that despite the discouragement from many of their family members and friends, they married and now have a beautiful baby girl.
Antoine is a 32-year-old teacher's aide at the Erin H Gilmore School for the Blind. He teaches braille, reading, writing and computer education, taught through the Jaws software for the blind.
"Being at the school brings me joy," he said.
"I am very happy to impart my knowledge to the students because I believe that once they are equipped with the necessary skills and training, they can take their rightful place in society."
He is teaching by example. I know Antoine well, having worked closely with him and the Bahamas Alliance for the Blind and Visually Impaired (BABVI). He once served as BABVI president and proved himself very efficient in this post. He was active on social media promoting the association's events, formed strong alliances with public and private institutions, and was successful at implementing programmes and raising funds towards the cause. He is currently the president of the Disabled Person's Organisation.
Professional in nature, you can expect timely responses through Whatsapp or email when communicating with him. Oftentimes, I found him even more efficient and professional than those with sight. Over the years, I wondered when Antoine would get married and have a life of his own, or if he was resigning himself to be totally immersed in his work and charitable activities. Fast forward to today, Antoine is a loving husband and a proud father.
He met the love of his life, Abbie, when they were both attending EH Gilmore. Antoine was born with sight, but his mother had a curable infection at the time when he was born. Doctors told her that by the age of ten or 11, her son would lose his sight. Antoine recalls when his sight started to go in primary school, and he started seeing only light, then only shadows. One morning at the age of ten, he woke up and could see nothing at all.
Abbie (nee Daxon) was born blind. They both ended up attending EH Gilmore and when Antoine was about 15 years old, he became smitten with Abbie. It's a small school and a great opportunity to really get to know your classmates. So Antoine knew Abbie well and felt inclined to write his first love note.
"I went to her with a letter one Valentine's day; back then, when you wrote in braille, others couldn't read what you wrote," Antoine said, chuckling, recalling that he was about 16 years old at the time.
In the letter, Antoine expressed his interest in Abbie and asked her to give him a chance. She didn't respond right away and a few days later, Antoine typed up another love note. This time, she agreed, and young, teenage love was born. It didn't quite work out that time but just before Abbie was getting ready to graduate, Antoine tried his hand again. He was a year behind her in school and the thought of not being around her every day anymore was daunting.
The next few months before Abbie's graduation was bliss as they had reunited, but after she left the school, they grew apart. They went on to live their separate lives but fate brought them back together as friends.
Abbie found her calling in the Office of the Attorney General. As a receptionist, she would answer the telephone and greet visitors. Abbie's dexterity around the multi-level building is commendable. She would effortlessly take packages from floor to floor and knew every individual and the set-up of each office.
In time, Antoine and Abbie found themselves talking to one another every evening via Skype, which brought them closer together. Eventually, they found themselves talking about everything and falling asleep together on the Skype line.
"I started to think to myself that I am getting older and I am ready to start a family," recalls Antoine.
"I decided to tell her that I see her as my wife. I didn't think about the times we broke up; I was just looking at the future. I decided to ask her to give it one last try."
"We had some fights from both families. Some people think that blind persons shouldn't marry each other. I had my own objection to it too at one point (not wanting to make life hard). But I said to myself, 'I love this woman'. So I just put away the noise in the market and followed my heart."
On February 13, 2016, Antoine and Abbie were married and on January 28, 2018, they had a daughter, whom they named Antonique. They are very independent. They often cook together but Abbie is the real chef, according to her husband. They get around town economically using Omako Transportation, which operates specifically for people with disabilities and is run "with love and care" by Olliemae Knowles. They also adore the family members and friends who have come around to support them, albeit just a few.
"We are living life as normally as it could be," said Antoine.
"We have our share of challenges; it's not a bed of roses all the time, but it is as normal as it could be. Once a man feels like he is independent, it boosts his determination and being able to move around without challenges is the greatest gift a person with a disability could have."
Antoine beamed when he handed his "precious princess" to me while I conducted this Face to Face. His good friend Roberto Davis was on-hand to assist them with babysitting during the interview. This two month-old baby girl just melts your heart. She smiles so much, you can tell she gets lots of love – and particularly likes "hand" as the old people would call it, when babies love to he held and may cry if you rest them down.
When Antonique was born, it was discovered that she, too, has vision impairment. The hospital staff booked her an appointment for examination at the South Beach eye clinic. On January 25, the Munroes found out that Antonique's left eye is not fully developed and her right eye has retina detachment and an issue with the cornea. She was then referred to the Bascom Palmer Eye Institute in Florida. The family flew over on March 6 and Antonique was seen by a retina specialist as well as a cornea specialist.
Doctors gave them some hopeful news. They would do their best to save Antonique's sight, and told the Munroes the quicker they perform the much-needed operations on their baby, the more likely the chance would be that she would be able to see clearly.
The cost - $24,320, which is $12,160 per eye. Antonique would then have to remain under the care of Bascom Palmer specialists for a few weeks after the surgeries until full recovery. So far, they have $2,000 saved towards the cause and they are making an appeal to the public for support.
"Antonique is the only hope of sight for our family as both my wife and I are totally blind," Anton said.
"Imagine a world of darkness where it feels like I am in the middle of the ocean trying to find land and there is no land in sight. Your donation would make a difference in changing this view. No matter how small, every donation would make a difference to give Antonique a chance for the best life possible."