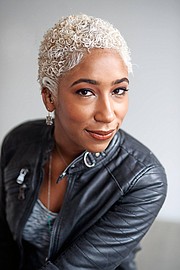 By ALICIA WALLACE
Transforming Spaces — an annual art bus tour in Nassau, Bahamas — was last weekend, and I took too long to purchase a ticket. It sold out quickly and so I was left to either sulk, or make my own way from gallery to gallery to see the work of Bahamian artists.
I buddied up with Charlotte Henay — storyteller and researcher who writes about cultural memory — and we moved from one gallery to the next, starting with The Current at Baha Mar and ending at Doongalik on Village Road.
Though we had both seen photos and social media commentary on the tour, we wondered what themes we would find as we explored the work on our own. We had been talking about the politics of storytelling, necessity of historical understanding, and what it means to be here now. As you would expect, this conversation informed and coloured my experience of the self-guided Transforming Spaces tour.
Baha Mar presented Instinct II: From Darkness to Light — "an investigation of dichotomies of concepts" that heavily references the Old Testament of The Bible with particular emphasis on Genesis 1. It was interesting to be surrounded by the work of women artists.
I was particularly interested in Sue Katz Lightbourn's two pieces on plaster, shaped like bustiers. Installed next to each other, they immediately brought to mind the idea of leather versus lace. One is black, adorned with industrial material including screws and dark words like "scary," "horror," "arrgh," and "eek". The white, more bridal piece is covered by flowers, garter-like material, and soft words like "love," "art," and "I'm the happiest girl alive".
There is no artist statement paired with the work to give context, making it even more interesting to consider. At a glance, it appears to be a commentary on womanhood, the balance of hard and soft, and challenging the idea of dichotomy as opposed to layered, complicated lives.
Occupying space at Baha Mar, however, it led me to wonder about what the space represents and how we show ourselves, as a country, to the outsider looking in from afar or dropping by for a brief, controlled visit. How do we define the hard and the soft? Which do we hide behind, and why? How can we complicate the narrative of The Bahamas and the deceptively narrow space between paradise and plantation?
Jessica Colebrooke's work, one two sides of one wall, hints at answers to these questions. On one side, there are ocean-inspired framed pieces, perfect for the island home with wicker furniture, or the office desk as a memento from vacation days spent with toes dug into golden sand. They are normal for island life. They are simplicity. On the reverse, Entangled I and Entangled II stand out. They are both like a ball of yarn spun with care, but confusing to the unknowing eye.
We, as people and as a nation, can be complicated. We can recognise the surface beauty while acknowledging the complications of our existence and how we came to be. Investigating origin and history may not lead to a simple timeline, and the way we discover truth may not be linear, but there are ways to work from one end to another. Recognising the difficult and the troubling is not a slap in the face to the beauty we deserve to enjoy. We have the skill to do them both, and the outcome depends almost completely on our interest.
Hillside House, in its collaboration with the University of The Bahamas Visual Arts, deliberately looked back while creating a cultural experience through interactive programing that including the visual art exhibition, workshops in printmaking and bookbinding, a music panel, and poetry night among other activities.
The exhibition in the gallery space runs the gamut, from the copper sculptures by Q Kimetria Pratt placing women on stage as superior, intentional beings to the poetry of Suhayla Hepburn remembering and reminding us of the grandmother we pay may not mind, even after she minded us on the porch we all know so well. Nowé Harris-Smith's Colonial Subjection is a reminder of the chain around the necks of Bahamian men and women as we navigate or pretend not to notice the persisting, lingering ramifications of a history we cannot undo or escape, but also cannot transcend without conversation and restoration that must include reparations.
The work in this space, from artists of varied backgrounds taking on a wide range of subthemes, calls out the tendency to refrain, ignore, and accept, and call us to occupy, face, and reclaim by standing in our own power.
Doongalik is a place of pure, child-like joy and wonder. Few things bring the energy and excitement or highlight the skill and boundlessness of the Bahamian. It is always a pleasure to be in conversation with Pam Burnside whose love for Bahamian culture and dedication to its preservation is incomparable. She walked us through the space and we talked, at length, about Junkanoo, its "evolution," and our role in ensuring it outlives us.
Having never visited a Junkanoo shack, the mini-shack by Junkanoo Commandos is a fun place to be. JuJukanoo Arts bring fun and nostalgia to Doongalik's Junkanoo exhibition with its Junkanoo figures, pasted and fringed, free of feathers. The burst of colour and up cycling of Bahamian soda cans made us feel energised at the end of a long day. We marvelled at the fine work and imagined, together, what is would be like for Junkanoo to take its rightful place in The Bahamas.
Art and art galleries can feel like closed, exclusive places. We do not all feel welcome in these spaces, or even deserving. It can feel like a mysterious world, open only to those who have studied, collected and created works of art. Transforming Spaces has been a vehicle to transport the supposed outsider — the person who cannot afford a gallery entrance fee, much less an original painting, or the person who does not instantly understand a piece and is afraid of feeling lost or confused. It is an entry point, and one we should scale and replicate, not only in the art world, but in every industry.
Things do not exist for themselves, but for the people who can enjoy and benefit from them, whether through experience, direct engagement, or conversation. The Bahamas is no different. It is not here for its own good, nor is it here for the people who pass through once in a lifetime or spend a few months here per year.
Our conversations about who gets to visit, own, and claim The Bahamas are taking place in many different spaces among people of various backgrounds. If you are interested in having it, whether with or without other people, Transforming Spaces may be a good place to start. We could certainly benefit from more people talking about change-making as a practice, and seeing art as one of many ways to reflect on the past as we create our own future.