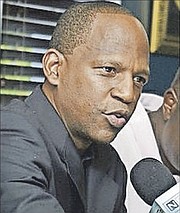 By Morgan Adderley
Tribune Staff Reporter
madderley@tribunemedia.net
DEMOCRATIC National Alliance Interim Leader Chris Mortimer called for a pause, immediate review, and potential cancellation of the Oban Energies Refinery deal in a statement released Friday.
With these remarks, Mr Mortimer joins the Official Opposition and environmental activists groups that have also criticised the Minnis Administration for the agreement that has been the centre of national controversy in recent weeks.
Mr Mortimer likened the situation to the mistakes made by the Christie Administration in 2012, especially surrounding the "failed" Gambling Referendum of 2013.
In January 2013, then prime minister Perry Christie told reporters that he "had no horse in the race" regarding the referendum.
Referring to this quote, Mr Mortimer said, "Scores of Bahamians believed otherwise".
Mr Mortimer noted that six years later, the populace is once again questioning whether someone in their government indeed has "a horse in the race" surrounding an issue of national concern.
Consequently, Mr Mortimer said the Bahamian people must be suffering "flashbacks" at experiencing another government caught "in a web of inaccuracies, half truths, misstatements and fraud."
"The most unsettling part is that the revelations are still coming."
Mr Mortimer also listed Oban project's scandals thus far.
These include the fact that the Minnis Administration has "endorsed a project replete with unsavoury characters," and that the Heads of Agreement have been purportedly signed on three separate occasions.
Mr Mortimer also cited the fact that Oban has no previous experience in the oil refining business and that nearly 700 acres of Crown Land has been given away for the project.
Furthermore, the company will be exempt from paying taxes other businesses are subject to paying.
In a sixth point, Mr Mortimer added that the government does not have a completed report on the impact the Oban project will have on the environment.
He also referred to the fact that the government has relinquished all rights to terminate the Heads of Agreement with Oban Energies, even if the project will have a detrimental impact on the environment.
In view of these concerns, the DNA called for all activity surrounding the project to be paused until the identity of all parties involved can be ascertained.
The party also demanded a review of the parts of the deal that offers no protection for the environment — calling these clauses "insane".
Furthermore, the party called for the "immediate review and if necessary cancellation" of this "Oban fiasco".