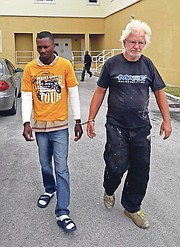 A New Zealand national was arraigned in the Freeport Magistrate's Court on charges of illegal landing and overstaying.
James Anthony Genet, 58, appeared before Magistrate Charlton Smith in Court Two.
It is alleged that on March 13, Genet was found at a local hotel in Freeport after the expiration of a one-month stay granted to him on January 19, 2018 by an immigration officer. His stay had expired on February 18.
He pleaded guilty to the charge and was ordered to pay a $2,500 fine or serve two months imprisonment.
Also appearing before magistrate Smith was Dunerve St Girat, 32, of Haiti, who was charged with illegal landing.
According to the particulars, the accused was found in Freeport having landed from a place from outside of The Bahamas without the leave of an immigration officer.
St Girat pleaded guilty and was ordered to pay a $300 fine or serve two months imprisonment. He paid the fine and was flown to New Providence, where he will be detained at the Detention Centre to await deportation to Haiti.