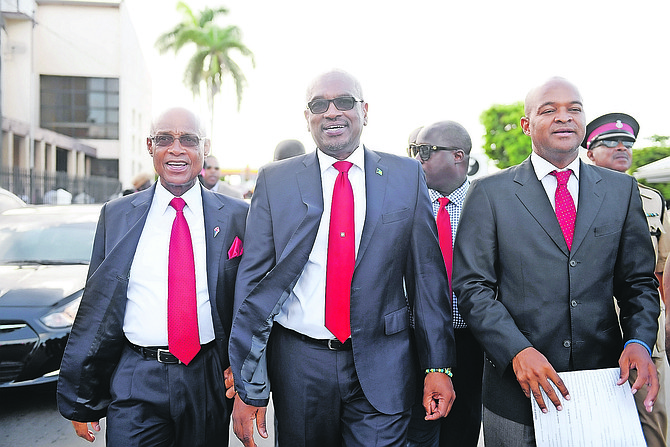 By KHRISNA RUSSELL
Deputy Chief Reporter
krussell@tribunemedia.net
AFTER defying Prime Minister Dr Hubert Minnis' ultimatum to either tender his resignation or be fired, Centreville MP Reece Chipman was sacked as chairman of the Antiquities Monuments and Museums Corporation on Saturday.
The firing – which comes a mere ten months into the Minnis administration's term in office – is allegedly related to Mr Chipman's handling of the AAMC, The Tribune was told.
On Friday, Dr Minnis gave the first time MP until noon Saturday to resign.
However, he refused, stating in a letter sent to the prime minister and parliamentary colleagues ahead of his axing that he would only do so if Permanent Secretary Jack Thompson and several other high-ranking government employees at the AMMC also submitted resignations.
He further claimed the AMMC was operating outside of the law and also suggested the government was following the status quo of the previous Christie administration.
When contacted by this newspaper yesterday about the controversy, Mr Chipman said he had high expectations of the Office of the Prime Minister which were not met, but added he regretted that things had escalated to this point. He also said the civil service is filled with "political prostitutes" which will hinder forward movement unless this problem is weeded out.
When asked if there was any bad blood between he and the prime minister, Mr Chipman said: "I don't know where he is with it. I just know from my perspective I just had higher expectation of not him in particular but of the Office of the Prime Minister and I think that's where the line is for me, my expectations were not met. It's a difference in expectation. I wish him all the best with his role and of course I wish my administration the best moving forward but there is a level of expectation one would expect when we look at public service and higher office and in that regard I think there is a lot of work to be done."
When asked if he had regrets, Mr Chipman told The Tribune, "It's always regrettable when any organisation or administration gets to the point where obviously whether there is a lack of communication or just a lack of attention is given to certain areas.
"I think that the letter (sent to the prime minister) spoke to campaigning against a system and when a system of governance is filled with what I term political prostitutes it's going to be difficult for us to move forward unless we rid ourselves of that type of injection in the public service.
"I think it's important for the constituents of Centreville to know my take on it. And it's also important for you to in terms of the fairness of reporting to understand both sides. Because the prime minister will have to say his interpretation of what transpired, I don't know whether he will or won't and then I guess we'll have an opportunity to clear the air at some point.
"But it is important for us to acknowledge that we have a tough job. I do understand that the prime minister has a tough job. I do understand our administration has a tough job however there are some little things that are important. Like respect, like adequate relevant communication, clarity with regard to the law and with regard to corporate governance principles. Otherwise what will trickle down is a bunch of foolishness and that is not something I am going to be good at tolerating," Mr Chipman said.
In his letter to Dr Minnis dated March 23, Mr Chipman said his request for the resignations of Mr Thompson, Deputy Permanent Secretary Carol Johnson and Director of AMMC Dr Keith Tinker were based on several concerns, which he claimed were brought to the attention of AMMC's board of directors.
"Thank you for the opportunity to serve," he wrote. "I would have told you that I would get back to you on Saturday, March 24, 2018, regarding your request for my resignation from the position of chairman of the Antiquities Monuments and Museums Corporation.
"I will submit my resignation upon your simultaneous request and submission of the resignations of Permanent Secretary Jack Thompson, your Deputy Permanent Secretary Carol Johnson and Director of Antiquities Monuments and Museums Corporation Dr Keith Tinker."
He also wrote: "We campaigned for change Mr Prime Minister. We campaigned against a system that was not working for our children and the next generation of Bahamians. We did not campaign on much of the same. Centreville will continue to fight for change for our people and Centreville hopes you endeavour to do the same.
"You would have been presented by myself with the AMMC Act and regulation in order for us to be in compliance with the law. Obviously, these were ignored by the Office of the Prime Minister."
The MP claimed the AMMC received a double subvention of $206,000 that was not returned to the Public Treasury as is required by law.
He further claimed a senior employee had also failed to conduct duties as required and requested by the board and the chairman, and also received additional remuneration outside of contractual arrangements of the AMMC.
In addition, Mr Chipman said no audited financials for the corporation for the last five years as requested by law had been provided.
The letter also stated there were unauthorised approvals written without Cabinet's consent, which is also required in some instances.
He said the AMMC Act and regulations were further being ignored in the operations of the corporation.