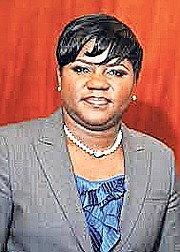 By RASHAD ROLLE
Tribune Staff Reporter
rrolle@tribunemedia.net
RENEE Davis' tenure as acting managing director of the Bank of the Bahamas ended yesterday.
An email to BOB staff portrayed her departure as an amicable decision between her and the bank's board.
She leaves nearly two years after she was appointed acting managing director, having served in several roles since her arrival in 2005. Her departure comes not long after BOB's former Acting Managing Director Hubert Edwards also left his role.
BOB's board released no official statement on the change yesterday and it is not clear when a replacement may be made.
However, the board's decision to refresh its leadership won praise from Darron Cash, former Free National Movement chairman, BOB shareholder and critic of the bank, who said the decision is among a number of "positive" steps the board has taken since its appointment last year.
"It is the right decision and I commend the board for having the courage to go ahead and make the change," he said when contacted. "This is a matter I addressed at the annual general meeting in suggesting that meaningful progress in the bank would not happen until there is substantial change in the leadership. I wish it would have happened sooner but I applaud them for being deliberate in their decision making process.
"Unfortunately the reality is over the past several years the organisation has been losing significant talent; very good people have gone because of poor leadership at the top and those outstanding people have left at a time when the organisation needed strength. I hope and pray that in selecting a new managing director the board would be equally as deliberate in the selection process and choose someone who would inspire confidence not just within shareholders but within the business community; someone who could inspire trust and integrity which are paramount for a bank that has been losing depositors for a long time.
"The organisation has got to demonstrate the ability to innovate," he said. "The minister of finance has been in the newspaper importantly talking about the need for innovation as a number of the legacy Canadian banks have left a number of Family Islands and scaled down services in some of our communities. It would go a very long way if the new leadership of the BOB can demonstrate new ways of serving those in under served markets. Furthermore, the leadership team within the bank has a lot of work to do in terms of building morale among the employees. The bank has been plagued by poor leadership that has been detrimental to morale."
Deputy Prime Minister and Minister of Finance Peter Turnquest has said a forensic audit will be performed into BOB.
Toxic loans transferred off the bank's balance sheet in recent years and credit that has been written off will be probed, he said, arguing political interference and shoddy lending practices were key factors in the decline of an institution that has struggled to be profitable.
For all the bank's problems, successive administrations have scoffed at the idea of letting it fail, with Mr Turnquest arguing that doing so would be more costly than propping it up.