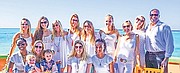 By JEFFARAH GIBSON
Tribune Features Writer
jgibson@tribunemedia.net
TWELVE yoga instructors have completed an intense programme at Studio Ohana to become 200-hour certified vinyasa teachers.
According to Alexis Gross, owner and instructor at Studio Ohana, vinyasa is one of many styles of yoga, a dynamic, movement-based practice that incorporates a lot of breath work.
The style combines techniques for strengthening, increasing mobility, improving balance and stretching. It also incorporates mindfulness and breathing techniques, she said.

While the studio offers many types of yoga, including power, yin, dharma, sculpt, aerial and more, vinyasa is one of the most popular and one of the styles most practitioners are familiar with.
The recent graduates are the first to successfully complete the 200-hour training course. The studio has also held training sessions in yin yoga and will continue to make programmes like this available to locals depending on demand.
"The course was held over six weekends over a period of three months; about 20 hours per weekend. During the course, trainees learned about the history of yoga, anatomy, breathing techniques, meditation, how to sequence a vinyasa class and more. Trainees were expected to read the main texts of yoga as well as to practice yoga's main guiding principles between training weekends," Alexis told Tribune Health.
As both the studio and yoga's popularity in the Bahamas have been growing, Alexis said they found that more teachers who taught vinyasa style of yoga were needed.
"While this form of yoga can be quite physically challenging, it can be tailored to all levels. Due to it's movement-based nature, many people find vinyasa to be an engaging work out and 'work in'. This style of yoga has been growing in the Bahamas and is among the most popular here and worldwide," she said.
"We also had demand from students who weren't necessarily looking to teach, but simply to deepen their own personal yoga practice."
The studio is dedicated to promoting wellness through yoga and alternative forms of fitness. It offers classes in yoga nidra, mediation, ashtanga, bikram fusion, antigravity and strength training classes such as running, cardio sculpt, high intensity interval training, jumping jacks, skip rope, TRX, ballet barre, hip hop dance, and more.
As it continues with its mission of promoting yoga within the Bahamas the studio we will continue to offer classes at their Cable Beach location, private yoga instruction, the monthly Goddess Circle, Vegan Network Bahamas, teacher trainings and yoga/wellness retreats in in the Family Islands, and possibly international locations, for our students.

"In addition to this, as the studio continues to grow, we plan to offer outside trainings, retreats and continuing education credits for people wishing to travel to the Bahamas," said Alexis.
"We will continue to strive to make the Bahamas a tourist destination for yoga and wellness."