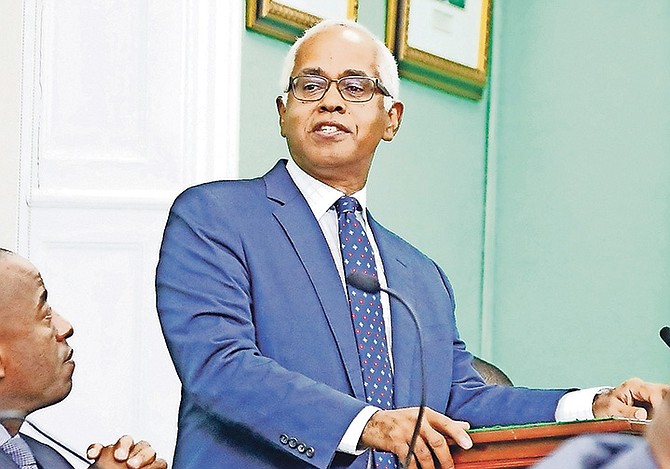 By RICARDO WELLS
Tribune Staff Reporter
rwells@tribunemedia.net
TOURISM and Aviation Minister Dionisio D'Aguilar yesterday said he expects regulations that would restrict a pilot's ability to classify flights as commercial or leisure to be reviewed and legislated within the "next month or two," as part of a move to crack down on the deadly practice of "hacking".
In an interview with reporters outside of Cabinet yesterday, Mr D'Aguilar said he has implored senior officials at the Bahamas Civil Aviation Authority to close efforts on the new regulations, allowing him to bring the proposed changes to the public "very soon".
"We are removing the choice from the pilots to determine whether it is a commercial (flight) or carrying your friends or family," he said.
Earlier this month, Mr D'Aguilar warned pilots engaged in selling seats on planes without the proper licences for commercial activity, a process known across the country as "hacking", to get properly certified and licenced, saying "no more" will they be allowed to carry out this practice.
Mr D'Aguilar, at that time, said the BCAA had implemented a number of new measures that would end the unregulated practice once and for all.
These included evaluating the single pilot air operator requirements with the goal of streamlining the process to encourage illegal operators to become compliant; the institution of a more structured on the job training programme for inspectors; conducting various enforcement investigations in conjunction with the legal counsel of the director general and capturing the new Bahamas Civil Aviation Authority logo to be displayed on approved operator aircraft among other things.
Furthering the crackdown, the Freetown MP yesterday said current proposals before the BCAA call for all final flight designations to be made by aviation representatives, meaning pilots would no longer get to classify if a flight is being operated commercially or for personal reasons.
Mr D'Aguilar said the proposals also call for the implementation of a service threshold that would automatically classify flights transporting a predetermined amount of passengers or operating with consistent numbers on a consistent basis, as commercial flights.
To that end, he added: "Once you hit this threshold, you are now in the category where you need to be properly licenced."
Mr D'Aguilar explained: "The terminals through which (pilots) go, (is) general aviation, to check their paperwork before they go out on to ramp and when they come off of the ramp. And so, in that way, to verify that they have (a) licence that allows them to transport passengers commercially and to ensure that their planes have been properly inspected and licensed."
Mr D'Aguilar said the new regulations will act as a "funnel point" for verified information, from which officials will be better able to monitor operations.
He added: "So that is what we are intending to do, to empower the fix base operators to check the paperwork of the pilots to ensure that they are not hacking.
"Also, we intend for the fix base operators, starting in Nassau, to check how many times they fly in and out and to find out how many people they are carrying.
"I think, I forget what the threshold is we are coming up with, but if you are making more than the limited number of flights or carrying a limited number of people every month, that would be the threshold.
"Because, you see right now, the pilots get to decide whether they are taking someone for commercial purposes or they are doing something privately and because the licence to carry people commercial is a little bit more of a risk, they say these are all my friends and family; they are not paying.
"They are circumventing the system, and that is hacking," Mr D'Aguilar said. "And so, if you are carrying more than a certain amount of passengers a month you will reach that threshold and automatically trigger you going into a different category."
Back in January, in the wake of plane crash that killed six people near Andros, Randy Butler, CEO of Sky Bahamas, told The Tribune that while existing regulations governing the industry may be stiff, they were inadequately enforced.
At the time of his comments, he said at least 28 planes operated illegal charters each day.
A number of certifications and licences are required before a commercial flight can take off, including an aircraft airworthiness certificate, valid airmen certificates which relate to the physical fitness of a pilot and aircraft maintenance licences, among others.
According to Mr Butler and many other industry insiders, many of these regulations are often overlooked or bypassed at airports in small Family Island communities.
Officials have said no flight plan was filed before the Andros plane, which was destined for New Providence, took off. It was also revealed the pilot did not have a commercial licence, nor was he certified to operate multi-engine planes.
Following the fatal crash, the Bahamas Civil Aviation Authority pledged an unprecedented effort to clamp down on illegal charter operations by embracing technology, involving law enforcement and increasing surveillance to identify and prosecute law-breakers in the aviation industry.
The pledge was made by BCAA Director General Captain Charles Beneby, who, at the time said the BCAA had engaged police, customs, immigration and airport authority officials, among others, to "draw a tighter net and a tighter noose around the practice of hacking."