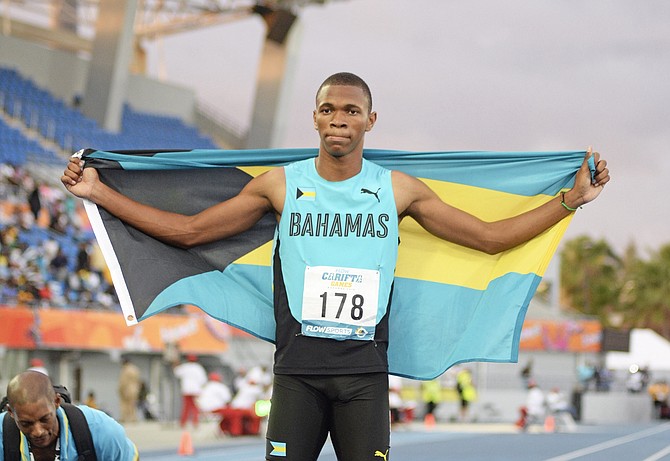 By RENALDO DORSETT
Tribune Sports Reporter
rdorsett@tribunemedia.net
Team Bahamas is off to an impressive start with a 12-medal haul on day one of the 47th edition of the CARIFTA Track and Field Championships.
The team captured four gold, five silvers, and three bronze medals Saturday night as competition began at the Thomas A Robinson National Stadium.
Team Bahamas concluded the night with several highlights in the 100m and 400m to bring a raucous home crowd to their feet on several occasions.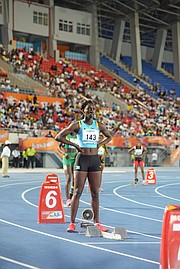 Joel Johnson closed out the 100m series by claiming the title of the fastest junior sprinter in the Caribbean. Johnson won gold in the U 20 Boys 100m in a time of 10.31 secs, following a second-half execution of his race that completely separated the hometown favourite from the remainder of the field.
Johnson's time set a new personal best and junior national record in the process when he surpassed the time of 10.34 secs set by Keanu Pennerman in 2015.
Adrian Curry won a second medal for the Bahamas in the race when he took the bronze in 10.46 secs. Curry finished just behind Rikkoi Brathwaite of the British Virgin Islands who won silver in 10.43 secs.
Jaida Knowles won silver for the Bahamas in the U17 Girls race in 11.68 secs. Jamaica's Brianna Williams blew away the field in a blistering 11.27 secs, ahead of Soniya Jones of Antigua and Barbuda in 11.75 secs.
Devine Parker finished fourth in the U20 Girls race in 11.59 secs. The top three spots on the podium were occupied by Michae Harriot (11.39 secs) and Ockera Myrie (11.46 secs) both of Jamaica and Akliah Lewis of Trinidad and Tobago (11.51 secs).
In the U 17 Boys event, Romeo McKenzie finished seventh in 11.09 secs and Nathan Moss was eighth after an apparent hamstring injury in 11.23 secs.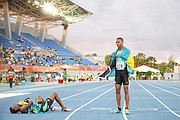 The Bahamas won three medals, including a pair of gold in the 400m.
Meagan Moss set a new CARIFTA record and won gold in the U17 Girls 400m in 53.19 seconds. Her time surpassed the previous mark of 53.36 secs set by Shanuae Miller-Uibo.
Jasmine Knowles finished sixth in 56.00 secs. Daniella Deer of Jamaica was second in 53.95 secs and Deshana Skeete of Guyana finished third in 54.15 secs.
Doneisha Anderson won the U20 Girls 400m in 53.58 secs while teammate Marissa White was seventh in 56.41 secs.
Cherokee Young and Janielle Josephs of Jamaica were second and third respectively in 53.63 secs and 54.45 secs.
Raymond Oriakhi won bronze in the U17 Boys race in a new personal best time of 47.75 secs, Kyle Gale of Barbados won gold in 47.07 secs followed by Avindale Smith won silver in 47.54 secs.
Mitchell Curtis won the Bahamas' first medal on the track, with his silver medal in the U17 Boys 1500m. Curtis ran 4:13. 41 secs to finish second, just beating out Guyana's Murphy Nash at the line. Nash took third in 4:13.59 secs.
Bryant Lowe finished ninth in the Boys U20 1500m in 4:14.56 secs.
The Bahamas' medal haul began in the first session of the day when M'Kayla White won the silver in the U 17 Girls High Jump with a jump of 1.65m. Jamaica's Shantae Foreman took the gold in that event (1.74m) and Curaçao's Vanessa Mercera the silver with 1.71m.
Keyshawn Strachan followed with a silver medal in the U17 Boys Javelin. His throw of 50.14m placed him behind Trinidad and Tobago's Veayon Joseph (55.92m) and ahead of Turks and Caicos' Katrell Pierre (45.24m).
The Bahamas continued their success in the field and took both spots atop the podium in the U17 Boys Triple Jump with Latrell Taylor and Chima Johnson respectively. Taylor took first place at 14.10m followed by Johnson's leap of 13.76m to secure the silver medal. Jamaican teammates Luke Brown and Jordan Turner were tied for third at 13.74m and Lavia Jevonie of St. Vincent and the Grenadines was fifth at 13.27m.
For the second consecutive year, Kyle Alcine took silver in the U20 Boys High Jump. He cleared 2.08m, followed by Curacao's Jaden Bernabela took the gold medal on fewer knockdowns. Shaun Miller finished fourth, just outside of medal contention with a clearance of 2.00m.
In the U17 Girls Shot Put, the Bahamas placed sixth and 10th respectively in the 11-athlete field. Canitra Mackey was sixth with her throw of 12.26m while Miranda Tucker was 10th at 10.49m.
In the U20 Girls Shot Put, Tiffany Hanna finished fifth with a throw of 12.50m.
In the U20 Girls Long Jump, Lakelle Kinteh was fourth with a leap of 5.54m and Daejha Moss finished ninth at 5.40m. Chantoba Bright of Guyana won gold at 5.95m, Lotavia Brown of Jamaica was second at 5.70m and Nasya Ramirez of Curacao was third at 5.65m.
Patrick Johnson has also posted 2592 points through four events of the Octathlon.
The meet continues Sunday with sessions at 9 am and 4 pm.