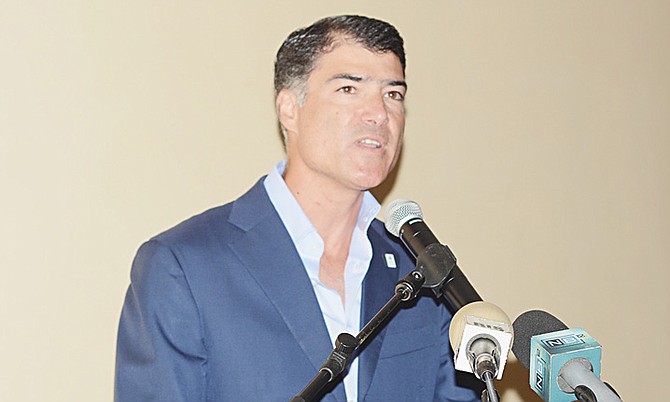 By NEIL HARTNELL
Tribune Business Editor
nhartnell@tribunemedia.net
Baha Mar's main contractor yesterday slammed Sarkis Izmirlian's $2.25 billion fraud claim as "implausible", branding his action as groundless and having no basis in law.
China Construction America (CCA), in its long-awaited response to the fraud and "breach of contract" lawsuit by Baha Mar's original developer, argued that the claims Mr Izmirlian is seeking to assert were all "released" when the $4.2 billion project was taken out of receivership in late 2016.
The Chinese state-owned contractor, in legal filings with the New York State Supreme Court, cited numerous reasons why Mr Izmirlian's claim should be dismissed regardless of whether Judge Saliann Scarpula sent it to arbitration.
Relying on an affidavit supplied by Brian Moree QC, the senior McKinney, Bancroft & Hughes partner, CCA argued that Baha Mar's original developer "lacks standing" to bring a legal claim over the loss of his - and his family's - $830 million equity investment in the project.
Mr Moree argued that, under Bahamian law's "reflective loss rule", shareholders and the company they own are separate legal entities. As a result, Mr Izmirlian cannot assert a direct claim for loss relating to the value of his family's equity investment when this "reflects damages suffered by the company", meaning Baha Mar.
CCA, again drawing on Mr Moree's advice, also argued that Mr Izmirlian could not claim his action was a 'derivative claim' because he had never met the three Companies Act requirements to initiate such an action.
In particular, the contractor claimed that Baha Mar's original developer had never obtained permission from the Bahamian Supreme Court or Baha Mar liquidator (Bahamian accountant Ed Rahming) - as required under Bahamian law.
CCA's legal filings represent an "all in" effort to knock out Mr Izmirlian's lawsuit at the first hurdle, poking fun at his "claim to be a highly sophisticated real estate developer with more than two decades' of experience in the Bahamas".
Targeting the Lyford Cay resident's fraud claim, the Chinese state-owned contractor argued that Mr Izmirlian's 'hands on' involvement with the project meant it was impossible for him to claim he was 'misled' over its progress towards completion by CCA's alleged "misrepresentations".
"The fundamental but implausible premise of plaintiff's [Mr Izmirlian's] fraud claims is that plaintiff was misled for at least three years into believing that the project would be completed on time and on budget, until plaintiff allegedly realised in 2015 that it had been duped and was forced into insolvency," CCA alleged.
"The implausibility of this premise is revealed by the Investors Agreement, on which plaintiff relies, which provides that plaintiff was 'responsible for the day-to-day management of the company [Baha Mar] and its subsidiaries in the ordinary course of business, and all other decisions of the company and its subsidiaries'.
"The complaint confirms that plaintiff had access to complete information by virtue of its managerial role. It is replete with allegations that the plaintiff believed as early as 2012 that the statements giving rise to its fraud claims were false, or at a minimum was on inquiry notice as to their alleged falsity," CCA and its attorneys continued.
"In light of its access and alleged knowledge, plaintiff - which claims to be a highly-sophisticated real estate developer with more than two decades of experience in the Bahamas --cannot now claim ignorance for the better part of three years with respect to the subject matter of defendants' purported misrepresentations."
CCA then sought to cloak itself in the protection of Bahamian law, which underpinned most if its arguments for dismissing Mr Izmirlian's case. Besides asserting that the New York court had no jurisdiction over its Bahamian subsidiaries, the contractor also argued that all the events subject to the complaint occurred in this nation, which was the proper forum for resolving the dispute.
"A Bahamian court would be better suited to co-ordinate any litigation with Baha Mar's wind-up proceedings in the Bahamas, which would be necessary because plaintiff's claims have been released in connection with those proceedings," CCA alleged.
This refers to the deeds of novation and release, executed by CCA, the China Export-Import Bank's Perfect Luck vehicle, and Baha Mar's Deloitte & Touche receivers in September 2016, as part of efforts to extricate the project from receivership and sell it to current owner, Chow Tai Fook Enterprises (CTFE).
These arrangements waived, or released, all legal actions and claims previously asserted by Mr Izmirlian, when he controlled Baha Mar, against CCA. As a result, the latter is arguing that this 'release' bars the original developer and his BML Properties vehicle from reasserting the same claims in their New York lawsuit.
"It is inconceivable that the Bahamian liquidator or court would grant permission to pursue the claims here because those claims were released in connection with the Bahamian court's wind-up proceedings," CCA alleged.
"Specifically, the Asset SPV (Perfect Luck) to which the MCC (main construction contract) was novated executed a Deed of Release through which it released all claims against CCA Bahamas that arose out of, or in connection with, the MCC, with the exception of certain warranty claims.
"The scope of the Release is broad and includes 'all claims . . . in respect of the Main Construction Contract' against CCA Bahamas - the party to which the MCC was assigned in 2010, and the only defendant responsible for the construction of the project," the contractor added.
"It is implausible that the Bahamian wind-up court, or the parties to the Release, would risk the project's restructuring plan by allowing plaintiff to bring claims that belonged to Baha Mar against affiliates of CCA Bahamas."
CCA added that the Bahamian legal points identified by Mr Moree meant Mr Izmirlian has "no standing to bring his claims directly", while he had also failed to give 'reasonable notice' to Baha Mar's liquidator and the Supreme Court he would be launching the New York action - as required by the Companies Act.
"Plaintiff fails to allege that it has met these pre-suit requirements," CCA alleged. "Nor does plaintiff allege that it sought or received consent from the Bahamian liquidator of Baha Mar or the Bahamian court overseeing Baha Mar's wind-up proceedings to bring claims on its behalf, which is required under Bahamian law."
For good measure, CCA also claimed that the case would "impose a substantial burden" on the New York court given that many of the witnesses are located in the Bahamas. Jason McAnarney, CCA Bahamas vice-president of mechanical, engineering and plumbing, listed the involvement of numerous Bahamian companies in the project.
Apart from Reiss Engineering, the Ministry of Works inspectors, these included electrician Gojo Electric; Young's Plumbing; Global Tech for fire alarms; Propane Tech; Graphite Engineering and Integrated Building Services (IBS) as engineers of record; Island Site Development and Bahamas Hot Mix; Universal Security; and Brent Creary as 'architect of record'.
CCA, meanwhile, is demanding that the New York court order Mr Izmirlian's action into arbitration if it does not dismiss it, on the basis that it is "asserting rights and seeking remedies based on the" main construction contract - which mandates dispute resolution as a first step.