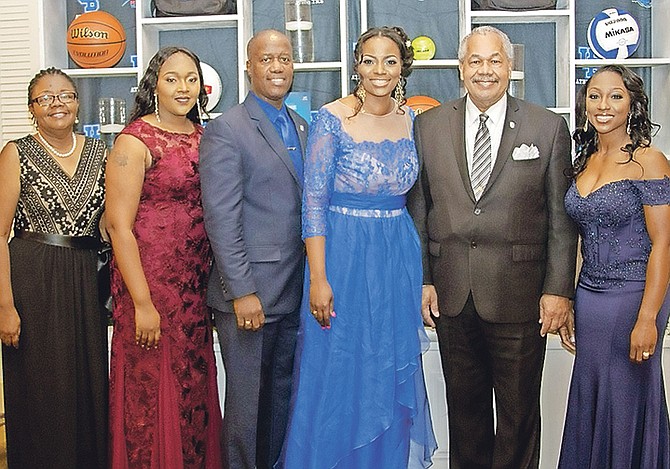 LEAGUE champions and national record holders are among the highly skilled student-athletes at University of The Bahamas. UB celebrated these trailblazers recently during the inaugural Athletics Awards Banquet held at the British Colonial Hilton in downtown Nassau.
Excited athletes and enthusiastic supporters attended the formal affair, dedicated to honouring excellence in sportsmanship and coaching. The honourees were awarded individually and as teams.
UB's athletes have achieved remarkable successes this academic year. The UB Mingoes men's soccer team, which defeated the Bears FC on Sunday to win the Bahamas Football Association's league title, was awarded Team of the Year, while track and field athlete Quanisha Marshall was awarded Freshman Female Student-Athlete of the Year. Additionally, Donovan Dean, on the Mingoes men's basketball team, received the Freshman Male Athlete of the Year award; Aikia Rose on the women's volleyball and softball teams, was honoured as Female Student-Athlete of the Year; heptathlete national record holder Ken Mullings received the Male Student-Athlete of the Year award and Duchely Richard of the men's soccer team won Academic Student Athlete of the Year.
Quality coaching has also played integral role in the growth of university athletics. Dion Godet was awarded Coach of the Year for his remarkable work with the men's soccer team and athletics nutritionist and UB alumnus Donovan Ingraham was awarded the Athletic Director's Award.
"When you look at what we did across the board, I would say that we had a very successful year and it is something for us to build on for next year. At this point, we're trying to lock in recruits for August so that we can add to what we have now," said University Athletics Director Kimberley Rolle. "This year, we had a significant jump over the last three years. Three years ago, the soccer team was winless and now they're undefeated. They've made significant strides.
"Kudos to Coach Dion Godet and Coach Harvey Mullings. They've done a magnificent job. Also, soccer is our highest GPA (grade point average) team and that also impacted them getting the award. We wanted to ensure that the awards were not just athletics-based. These guys are student-athletes, so the criteria for the awards had something to do with academics as well as athletics," she added.
On the men's soccer team, the Most Valuable Player was Julio Jemison. Kemsy Sylvestre and Quanisha Marshall claimed the same title for men's basketball and track and field respectively. Taryn Butler was named MVP in judo, Aikia Rose in women's softball, and Seanta Johnson in women's volleyball.
Also honoured were seniors Marlon Miller for soccer, Justin Munroe for basketball, Leonardo Romer for track and field and Aikia Rose for volleyball and softball.
University Athletics is consistently developing its programmes and talent to support future successes in sports.