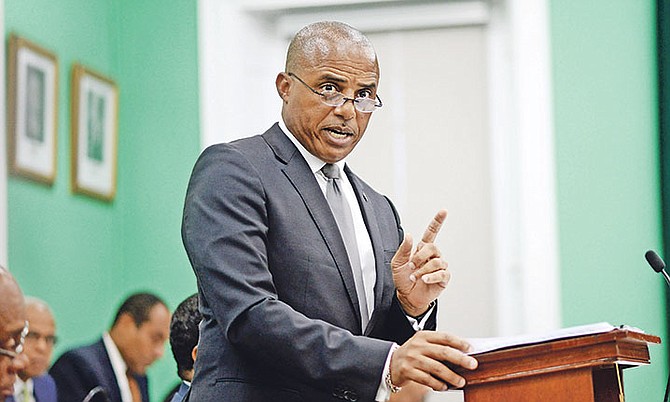 By RICARDO WELLS
Tribune Staff Reporter
rwells@tribunemedia.net
THE Minnis administration is not in the business of "moving away from fully capable officers" within the prison system, according to National Security Minister Marvin Dames who yesterday pushed back against social media claims that dozens of contracted officers were facing terminations in the coming weeks.
In an interview with The Tribune yesterday, Mr Dames said such assertions were "misguided" and "not based in truth".
The Mount Moriah MP insisted plans are in the works - as is the case every year - to review the performance of officers on post-retirement contracts.
This is a process Mr Dames said was consistent with traditional practices.
"This isn't something that just started, let's be clear here," he told The Tribune. "This is common practice throughout our law enforcement services. We often, as we say in the ministry, re-engage officers who would have just retired from the force due either to age or having serviced the maximum years of service."
Mr Dames said the practice was instituted to guard against the respective services losing officers "still ready and able to contribute."
"This happens with the police and I think one or two occasions with the defence force. One thing we said as a government is, we wanted the process to be transparent and out in the open. And I think our push to do just that is where all those empty noise is coming from. That is why you would have heard us speak about going the way of a commission to oversee this process moving forward," he said.
"We know we have officers that are done as it relates to their ages and years of service, but those that work with them would say to us, 'he or she still has something to offer.' Those were the officers targeted. There is an application process where they can apply to come back year-to-year. That application is reviewed by the commissioner, in this case the commissioner of the Department of Correctional Services, and he will make a ruling on that application and then pass it on to me."
According to Mr Dames, once an officer is approved at both levels, he is then offered a year-to-year contract. At the end of each year, that officer is required to apply again for reinstatement.
Mr Dames said he was unsure how many officers were employed under the scheme, but assured The Tribune that process, by design, prevents officers "only collecting cheques" to continue to serve.
"What we are talking about is a process that gets into the quality of service delivered by an officer. We take a look at the quality of his or her service and make a determination on that. In the future, we hope to open that up even more by removing the process from the public service and to a commission. Once that is done, it will be clear why an officer has been asked to come back on and, in other cases, asked not to," Mr Dames said.
These comments come in the wake of shocking viral videos purported to have been taken of inmates at the Bahamas Department of Correctional Services and a subsequent raid on the Fox Hill compound by more than 200 officers across three law enforcement agencies last month.
Of the video clip, Mr Dames said he was unsurprised given longstanding challenges of corruption within law enforcement agencies.
He, at that time, stressed these incidents were the result of the greed of a small minority, which would be flushed out of the system as the government works to radically transform standards for recruitment, training, development and succession planning.
Four videos were shared on Facebook, one of which shows only the hands of the men breaking down what appears to be a package of marijuana. Another video shows two men making hand gestures and making profane statements, while another depicts four men in a smoky cell with a portable speaker.
In the wake of the clips, many suspected the resulting fallout to include the firings of some officers. However, to date, no officers have been fired in connection with the ordeal.
Mr Dames yesterday suggested this could have been the motive behind the rumours of mass firing within the service.