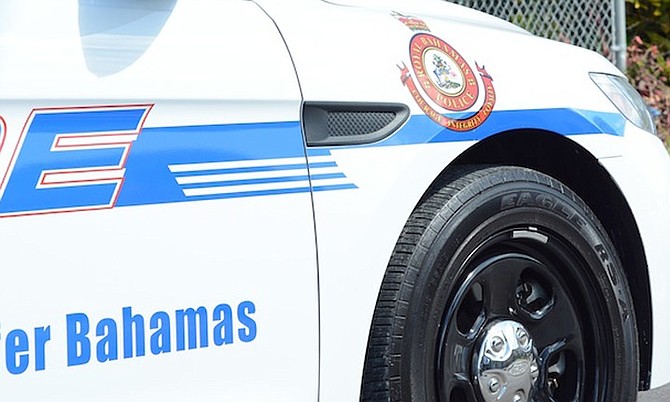 By RASHAD ROLLE
Tribune Staff Reporter
rrolle@tribunemedia.net
ANOTHER viral video of a police officer's physical attack on a person has prompted criticism across social media.
In a one minute clip posted online yesterday, a police officer strikes a man in the face at least twice. The video is blurry but the man did not appear to be resisting arrest.
The caption on the video posted to a Facebook page said: "Two police officers were caught on camera moments ago, beating down a young man in public. He was even beaten more as his friends watched because he began crying from getting slapped."
At one point in the video, an officer in a khaki police uniform can be heard asking the man, "What you crying for?"
He then struck him in the face again.
The video has since been shared hundreds of times on Facebook. One user said: "They need to fire all them."
Another said: "The way some of y'all police act, y'all act as if y'all don't have family and loved ones and y'all ain' want them to be treated the way y'all treat people family (sic)…"
The video comes less than a week after another video of a police officer slapping a man on a beach prompted Police Commissioner Anthony Ferguson to open an investigation into the matter.
In that 14-second clip, an officer steadily walked toward a man and slapped him across the face, causing the man to stumble more than once.
Commissioner Ferguson said the matter is being investigated by Deputy Commissioner Emrick Seymour.
Yesterday Deputy Commissioner Seymour said the matter has been sent to the Police Complaints Unit. He would not give a timeline when that investigation will be completed. As for the new video, he said he had not seen it.
Critics have long derided the process by which complaints of abuse against police officers are investigated, not least because it is controlled and overseen exclusively by officers.
Often, the public is not informed about the outcome of particular investigations.
National Security Minister Marvin Dames has said the government will form a committee to review complaints against officers "to ensure that there is balance in investigations by police"; however, it's not clear when the committee will be established or whether it will feature public reporting mechanisms.
Mr Dames has also said an inspectorate will be introduced for oversight compliance for all law enforcement agencies amid concerns about corruption.
A poll commissioned by Transparency International last year suggested Bahamians are more concerned and familiar with police corruption than corruption from any other institution.