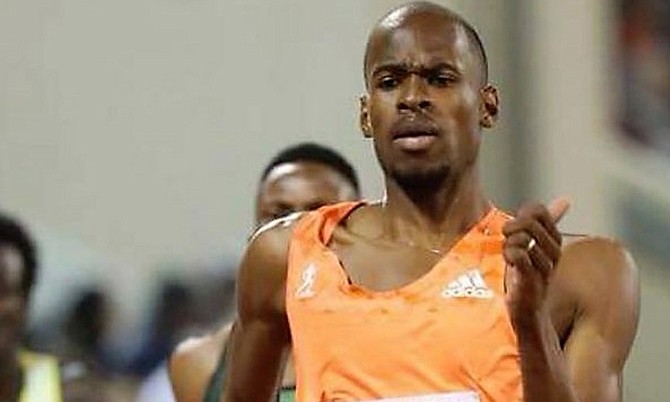 In his 400 metre debut for 2018, Steven Gardiner made it look so easy at the Diamond League opener in Doha, Qatar.
The 6-foot, 2-inch Gardiner powered his way to an impressive victory on Friday in 43.87 seconds for the world's leading time as he lowered his national record of 43.89 that he set in the semi-final before he clinched the silver last year at the IAAF World Championships in London, England.
Qatar's Abdalleleh Harqoun got second place in 44.50 with Botswana's Isaac Makwala third in 44.92. Makwala had the previous season's best time of 44.35 in snatching the gold at the Commonwealth Games in the Gold Coast, Australia in the absence of Gardiner and South Africa's world record holder Wayde van Niekerk.
Gardiner, 22, was one of two Bahamians competing in the first of the series of 14 meets on the Diamond League. He told Tribune Sports that his race was just a tip of the iceberg.
"It was a smooth race. I just got out in my 40 metre drive and went up the back stretch nice and tall and started my move at the 200m," he said. "At 150m, I just brought it home."
In his first meeting against Makwala in his first quarter-mile for the year, Gardiner said he expected the race to be a little slower, but it turned out to be quite fast.
"It's all good. It was great to get that kind of competition so early in the season," he pointed out.
Not only is Gardiner holding the fastest time in the world in the one-lap race, but he's also sitting in second place in the half-lap race after he added his name to the men's 200m national record in 19.75 at a meet in Coral Gables, Florida, on April 7.
That has him trailing Republic of South Africa's Clarence Munyai, who posted the fastest time of 19.69 on March 16 in Pretoria, South Africa.
"I feel very very good about both performances. Two PRs (personal best) early in the year, it's pretty good for me right now," he stated.
"I started off with a PR last year and this year I did the same thing, so it's all going good right now."
Coached by Gary Evans in Florida in a training squad that includes the Bahamian combo of Jeffery Gibson, Teray Smith and Elroy McBride, the Abaco native said he's in the right atmosphere and that has been the key to his success so far.
"I have a coach who understands and knows that I'm an actual human and there is only so much that I can take," Gardiner said. "It's going very good for me and my training partners are pushing me and I'm pushing them in practice.
"So it's just a matter of going out there and doing the work and compete like I train in practice."
Based on the times he's ran so far, Gardiner said the sky is the limit for him.
"In the 400m, I felt good out there tonight, so I feel I can go a bit faster.
"This was just my opener," he said.
"But to come out with a world leader, national record and PR all in one, I'm just so happy for that.
"In the 200m, it's a bit faster this year too. That was a surprise as well, so I just expect good things ahead of me this year."
As a 200m runner under his initial coach Rev. Anthony Williams in Moore's Island before he was converted to the 400m by his former coach George Cleare, Gardiner said he's so comfortable with the half-lap as opposed to the full lap.
"Everybody who runs the 400m likes the 200m because it's shorter and the 400m hurts so bad and only the strong could survive in the 400m," Gardiner said.
"But I now like both events because I both of them. So I just have to like it."
While Gardiner was holding his own on the track, two Bahamians faced each other in the men's high jump in their first meeting since the Commonwealth Games.
Donald Thomas, coming off his fourth place finish at the Games, took third place with a leap of 2.30 metres or 7-feet, 6 1/2-inches, while Jamal Wilson, the silver medallist in the Gold Coast, was ninth with 2.20m (7-2 1/2).
Qatar's Mutaz Essa Barshim, the reigning IAAF World Outdoor and Indoor champion and Olympic silver medallist, soared to victory before the home crowd with a leap of 2.40m (7-10 1/2).
On Saturday, May 12, Gardiner will be competing in the next Diamond League meet in the 400m again and will be joined by Bahamian twin tower Shaunae Miller-Uibo, who will contest the 200m.
"I'm just going to stick to my same race model, my same plan, just go out there and perform and have some fun," he said.
"I'm just going to bring it."
As a 200/400 threat, Gardiner said he welcomes the opportunity to compete against the world's best.
"With Wayde (van Niekerk) now out (of competition with an injury), it's going to be the same (competition)," Gardiner said.
"I just have to focus on my lane and focus on what I have to do and not worry about anyone else.
Following Shanghai, Gardiner will head to the 2018 Adidas Boost Boston Games on Sunday, May 20 where he will compete in the straight 200m again.
Last year, he slipped and fell, suffering a few bruises as he finished fifth in 31.28 as van Niekerk took the tape in 19.84.
"The 200m is always my favourite race, but I just have to go out there and work on my 100m start because everybody knows I hate the start," he said.
"But it's just for Boston and I'm just going to go out there and have fun no matter what the outcome. I'm just going to go out there to perform."
And for those who have suggested that because he skipped the Commonwealth Games to wait for his green card in the United States that he would be changing allegiance to the USA, Gardiner said they know more than him.
"I never said that so right now I don't know what they are talking about," he emphasised.
"They probably heard something and whoever it is, they probably are going to compete for the US, but I never said that I was going to do it."
Coming off his third year in Doha, Gardiner said he's looking forward to returning there next year.
The IAAF World Championships will take place from September 28 to October 6.
And he is expected to carry the Bahamian flag in either the 200 or 400m or in both events.