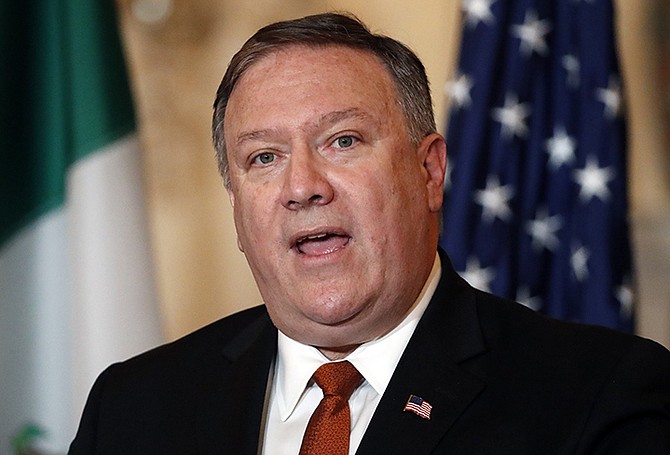 By Our Washington Correspondent
American Secretaries of State have normally visited their headquarters building on C Street in Washington shortly after they receive the oath of office. Mike Pompeo was determined to be different.
Officially administered the oath of his new office by Supreme Court Justice Samuel Alito last week, Mr Pompeo immediately jetted away for a quick stop at a NATO meeting in Brussels and then visited staunch US allies Israel, Jordan and Saudi Arabia before returning to the American capital. On Tuesday, he made his first visit to his new office in Foggy Bottom.
On a dazzling spring day that seemed to finally herald the end of winter in the American northeast, Mr Pompeo found the State Department's main diplomatic entry hall thronged with thousands of his new subordinates. Packed three and four deep along a balcony above the landing where Mr Pompeo made a few remarks, State Department employees joined hundreds more colleagues arranged behind velvet ropes on the main floor to offer a raucous, enthusiastic and almost tumultuous greeting to a man who means to help President Trump undo what Barack Obama achieved in diplomacy and will likely lend his voice to a recently unprecedented bellicosity and nativism in US foreign policy.
The first 15 months of the Trump administration have been especially tough on the State Department. Mr Trump's first Secretary of State, Rex Tillerson, eventually offered a reasonable voice on foreign policy in an executive branch that has often seemed unfocused and operating with myopic vision on the international stage. But Mr Tillerson never meshed with Mr Trump and was unceremoniously dumped via Twitter earlier this year.
Within the State Department, Mr Tillerson led a draconian effort to slash the agency budget, forced or impelled numerous respected senior career officials to retire and left vacant the department's most senior positions for unusually long periods. Commentators often described Mr Tillerson as hollowing out State's senior ranks. Morale was reportedly very low.
Despite the unsettling nature of many of Mr Pompeo's public foreign policy utterances as a three-term and Tea Party congressman from Kansas, he had settled in last year as director of the CIA with surprisingly little controversy. His subordinates at the spy agency reportedly regarded him as offering them reassuring support and sagacious leadership.
The State Department's warm welcome for Mr Pompeo's leadership thus came as no surprise. After Mr Tillerson's determined opposition to the department's organisational well being, Mr Pompeo arrives as a breath of fresh air.
On paper, Mr Pompeo seems impressive. He graduated first in his class at West Point. After a peacetime tour of duty in a tank unit in the army in Germany, Mr Pompeo went on to Harvard Law School where he was selected for the law review. In introducing the new secretary, Acting Secretary John Sullivan flattered him as a "cross between George Patton and Oliver Wendell Holmes." Flanked by his smiling wife and son, Mr Pompeo just grinned.
Thronged by well wishers on his entry into the building and departure after a few nondescript remarks, Mr Pompeo revelled in a scene reminiscent of televised presidential entries and exits from State of the Union addresses to annual joint sessions of the US Congress. He clasped hands along the rope lines, posed for selfies with staff members and appeared thoroughly at ease.
Mr Trump's disdain for Mr Tillerson and the traditional diplomatic service of the State Department was exemplified by the fact that when the president visited the department's ornate treaty rooms for a symbolic swearing in for Mr Pompeo on Wednesday, it was his first visit to the department as president.
The president's scripted remarks were very brief, but he managed to inject some characteristic snarkiness and sarcasm. Greeted by applause from his vice president and numerous other appointed dignitaries, Mr Trump noted "that's more spirit than I've heard from the State Department in a long time – many years. We are grateful for everything you do for our country. And you'll be doing things that you don't even know about. And we have a couple going now, Mike, that people don't know about that are very encouraging."
The president was likely referring to more manoeuvering in advance of a planned meeting next month between Mr Trump and North Korean leader Kim Jong-un, but many observers expect the president and Pompeo will have other surprises in store for the world community. Mr Pompeo is regarded in Washington as perhaps the cabinet member most in tune with Mr Trump, and unlikely to push back against the president's impulses in foreign relations as Mr Tillerson had done.
In responding to Mr Trump, Mr Pompeo ticked off "outstanding examples of progress we have made so far: We've put hurt on the ISIS caliphate in Iraq and Syria. We've done so by great diplomatic work. We are confronting all types of Iranian hostility, and are deciding on the next steps for the flawed JCPOA (Iran nuclear deal). We've imposed real consequences on Russia for its acts of aggression. And we will soon move our embassy in Israel to Jerusalem years ahead of schedule."
Mr Pompeo noted the recent visits to the White House of French President Emmanuel Macron and German Chancellor Angela Merkel, "but there's one more thing. We have an unprecedented opportunity to change the course of history on the Korean Peninsula. One thing is certain: We will not repeat the mistakes of the past. A bad deal is not an option.
"I want the State Department to get its swagger back," Mr Pompeo said. After their long exile in the bureaucratic wilderness of the Trump administration, the department's rank and file are likely to offer heartfelt support to the new boss.