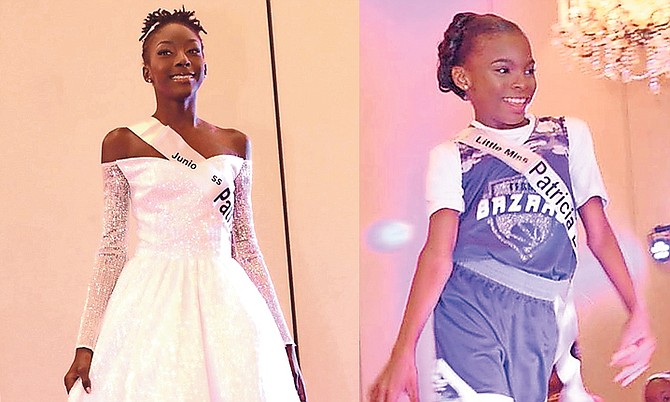 By ALESHA CADET
Tribune Features Reporter
acadet@tribunemedia.net
THE Little and Junior Miss Regency Bahamas Organisation recently pulled off its second successful pageant and saw two young beauties take home an extra fabulous accessory - a sparkly crown.
Under the theme "Iconic Glamour: Celebrating Bahamian Beauty Icons", Tysha Johnson captured the title of Little Miss Regency Bahamas and Kassiti Capron won the title of Junior Miss Regency Bahamas. Both queens are all set to join representatives from around the world to represent the Bahamas at the Little Miss Regency Pageant in Las Vegas, Nevada, this July.
After months of intensive training, grooming, coaching and preparation, organisers said it was all worth it in the end, as this year's pageant saw an amazing turnout in the British Colonial Hilton's ballroom.
During the finale, nine contestants competed in several categories, including sportswear, fashion, speech, evening gown and judges' interview.
Highlights also included a 'history lesson' segment in which the young beauties each represented an Bahamian icon, such as Governor General Dame Marguerite Pindling; former Cabinet Minister Loretta Butler-Turner; the late cultural icon Patricia Bazard; Mount Tabor first lady Patrice Ellis; iconic performer Mitzie Chipman; veteran fashion designer Judy Deleveuax; 'Queen of Junkanoo' Christina Fernander, and 'Golden Girl' Pauline Davis.
"While there were number of key moments that were quite outstanding, the most outstanding was when Lucito Bazard, husband of the late Patricia Bazard, embraced the winner Tysha Johnson who represented his wife. It was an emotional moment for him and we were honoured to have shared that with him and his family," said Tyrhonda Knowles-Glinton, pageant director.
Tyrhonda, along with the Little Miss Regency Bahamas team members, were especially grateful to the parents and their supporters for making the finale a success.
"Both winners are overjoyed and are enthusiastic about carrying out their mandates. You should have seen their faces during the announcement. Both of the girls were surprised and felt honoured that the judges felt they were capable of representing the Bahamas internationally. Both of our queens have causes they are passionate about," she said.
Tysha Johnson, who is a member of the National Children's Choir, is using her platform to encourage kids to embrace the performing arts, and for Junior Miss Regency Bahamas Kassiti Capron, her goal going forward is to raise awareness regarding the importance of positive body image among girls.
"We plan to have our representatives involved in national and community service based activities. We believe they should be well rounded and want them to have holistic development through volunteerism. Therefore, we invite organisations and corporations to reach out to us to include our queens in their activities. Additionally, both girls are quite involved in a number of sporting and local and international competitions, therefore we do not have to work too hard. We also would like to take this time to thank our honorees and hope that in the future we can host a gala to include and honour more Bahamian beauty icons," said Tyrhonda.
Her advice for young girls that would like to take part in the next Regency Bahamas Pageant is to not be afraid, to give it a try, as the organisation has a "come as you are" approach.
"It is does not matter if they do not have any pageant experience, if they can't walk or might be a bit timid, we will work with them. Once they have a desire to learn and a positive attitude, they will not regret this experience," said Tyrhonda.
Little Miss Regency Bahamas was founded in August 2016 by its president, Anishka Lockhart, and Tyrhonda. The organisation is under the auspices and a branch of the Miss Bahamas Teenager Organisation which targets young girls between the ages of seven to 10. The goal is to promote the nation's finest little girls and young ladies through an annual national pageant programme.