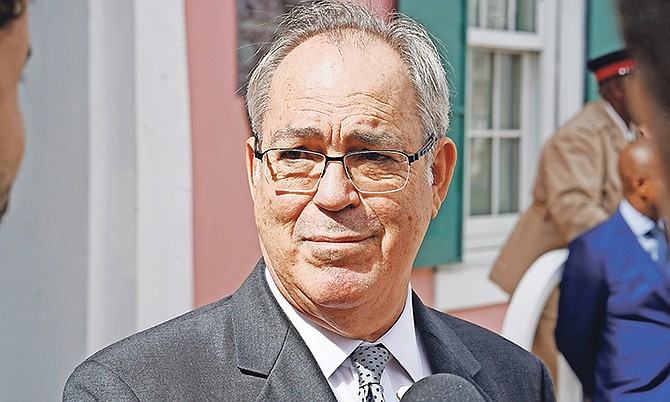 By AVA TURNQUEST
Tribune Chief Reporter
aturnquest@tribunemedia.net
THE government has approved more than 100 applications for citizenship since the Citizenship Committee was formed in February and is on pace, if the rate is sustained, to naturalise nearly 400 people by year-end, according to Immigration Minister Brent Symonette.
Mr Symonette told The Tribune the Citizenship Committee had processed a total of 120 applications as of last week, since its first meeting about three months ago.
The committee meets every two weeks to review applications of people who have clearly a constitutional right – ie they were born in the Bahamas and applied between the ages of 18 and 19 – to be registered as citizens.
Mr Symonette said: "The commission (met last Thursday), they're discussing 20 nationals, and we've done a total of 120 since the commissioner has started. They meet every two weeks. I'm swearing in 35 people on (Thursday), I do that every two weeks. These are numbers that we don't see. But yet I still have a backlog.
"Let's say I take 30," he continued. "I swear in 30 persons a week, every two weeks, that's 50 a month (on average), that's 600 nationals a year.
"See unfortunately we haven't sensitised the public on the flip side. And the majority of these (applicants) are the people y'all been jumping up about.
"Ninety percent (of applicants sworn in are) born here, lived here all their lives and everything else. I would guess that 30 of the 35 I swore in last week were Haitian nationals," he added.
There were 3,331 citizenship approvals between 2012 and April 2017, with Mr Symonette telling Parliament last year the rate appeared to increase toward the end of the Christie administration's last term.
One thousand nine hundred and sixty-nine people were approved for citizenship between 2012 to 2015; 789 people were approved in the year 2016 and 573 received citizenship between January and April.
Mr Symonette provided an updated track of the government's efforts during an interview with The Tribune on progress made in the sector as the FNM administration marks the anniversary of its first year.
He underscored a critical need for an immigration debate void of emotional pandering over the citizenship backlogs, and pragmatic review of the sustainability of current immigration laws.
"What happens is the minute I swear you in," he said, "you then apply, the children born before you are naturalised.
"So every time I swear one person in, I then create three or four children who want to be registered because their mom registered. So you can do the math."
Mr Symonette said he found the status quo, which affords people born here a direct path to citizenship but disadvantages Bahamians born abroad, personally offensive.
"We've had two referendums with regard to married women," he said. "I find that offensive. "Other people might not, but a Bahamian woman married to a non-Bahamian man has a child abroad and that child is not Bahamian.
"A lot of women go to the States to have children because of medical reasons, or if you're in Abaco because of proximity reasons – I find it offensive.
"If you were born in Miami because you lived in Abaco, and your child was born in Ft Lauderdale, second generation born outside of the Bahamas is not Bahamian, so we have it in our Constitution at the moment.
"So how can we then deny a Bahamian that right and then say 'oh no you can't deny the other fella that right.' Uh-uh that's offensive.
"The only difference (between second generation Bahamians and naturalised citizens) is you were born outside the country.
"But we ask the question could we restrict," he added, "and that's what our Immigration Act will look at."
Draft amendments to the Immigration Act are now under review by the Law Commission and stakeholders were slated to meet on Monday, according to Mr Symonette, who forecast a total revamp of the act over the next several months.