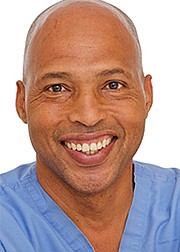 Reader poll
A 12%
B 28%
C 20%
D 16%
E 4%
F 12%
U 8%
587 total votes.
By NICO SCAVELLA
Tribune Staff Reporter
nscavella@tribunemedia.net
THE Minnis administration's performance after a year in power has been "neutral to poor," according to one local physician, who said nothing has changed in the country's healthcare system since it assumed office last year.
Dr Sy Pierre, president of the Medical Association of the Bahamas, said while local physicians are not entirely "disenchanted" with the government's performance to date, they aren't seeing "any rapid changes for the better at this time."
More importantly though, Dr Pierre said local physicians are wary of the government taking a full year to "articulate" exactly what steps it plans to take to reform the healthcare system for the better.
And concerning Minister of Health Dr Duane Sands, who left the healthcare system to enter the halls of Parliament on the Free National Movement's ticket, Dr Pierre said: "He is a reflection of the government. Even if he wanted to do something, it's the Cabinet. It's not an individual decision."
In May of last year, the FNM, led by Dr Hubert Minnis, won 35 out of 39 seats in the House of Assembly while the Progressive Liberal Party won four, only one of which was in New Providence. The election wiped out a number of senior PLP members and also saw former Prime Minister Perry Christie lose his long held Centreville seat.
According to the FNM's website, the party pledged that upon assuming office, it would prioritise upgrading the present healthcare infrastructure (physical, human and administrative); ensuring easy and affordable access by all Bahamians to primary, secondary and advanced healthcare including critical care; providing patients with the right to choose; develop a system that is "viable and sustainable"; and embracing a national healthy lifestyle programme to entrench a preventative and wellness strategy to effectively deal with the "scourge of the many related lifestyle illnesses."
The Minnis administration further pledged, among other things, to implement a "functional" National Health Insurance plan, with a robust catastrophic healthcare component; and to improve the working conditions and employment of consultant staff physicians in the country.
In recent weeks, healthcare workers have voiced frustration about overdue pay and benefits as well planned changes to their career paths. More than 200 nurses engaged in a "sick out" last week and their union has applied for a strike vote. Junior doctors are also upset with the Minnis administration because they say they will be forced into a mandatory programme that will determine if they will remain employed as physicians.
For his part, Dr Pierre said one year in, and nothing has changed from what it was under the former Christie administration.
"It hasn't gotten any better, it hasn't gotten any worse, I don't know if it's going to take a longer time, or exactly what they need to do, but we're not seeing any rapid changes for the better at this time," Dr Pierre told The Tribune. "So in terms of an opinion from the physicians, the physicians seem to, if I was to say, (rate the government as) neutral to not performing that well."
He added: "If you have a plan before you go in, it doesn't take you a year to articulate it and say 'okay, we're going to do 'a,b,c and d.' It could've had nothing to do with healthcare, you know? Healthcare might've been too big. They could have said 'okay we're going to deal with education, crime and illegal immigration.'
"'These are the things we're going to do, we've got a lot of problems but you can only deal with so many things in five years.'
"So that's the issue with many of the physicians, feeling, I wouldn't say disenchanted, but kind of neutral. If you were to give a grade, neutral to poor, in terms of the performance thus far.
"Maybe they should ask for recommendations. Will they do it? I don't know. It's never too late to ask for help."