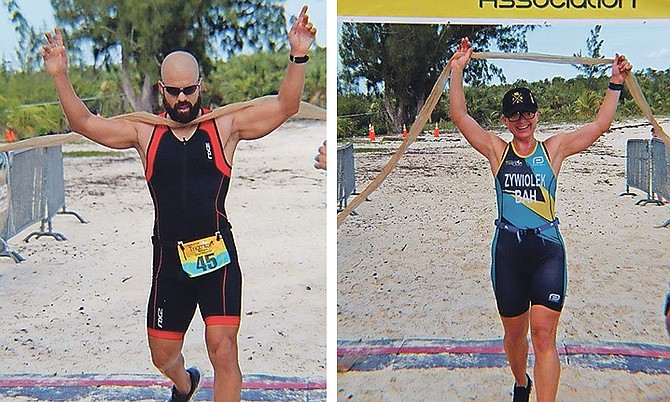 JORGE Marcos and Anna Zywiolek became the first champions crowned in the Bahamas Triathlon Association's National Champions for Triathlon in the sprint distance over the weekend.
Marcos was the overall male winner in a time of 1:03:49 followed by Mark Dietrich and Simone Bertoldo. For the women, it was Zywiolek in a time of 1:09:13 followed by Julie Salas and Sarah Kennedy.
The BTA hosted its first National Championships which included age groups from 8-and-under up to 70-and-over. The event was held on Sunday at Jaws Beach.
For ages 16 and over it was a sprint distance which consists of a 750-metre swim, 20-kilometre bike ride and a 5-kilometre run. The other events included 13-15, 11-12, 9-10 and the 8-and-under Splash and Dash, all which consisted of different distances. Relays were also included in the event - all male, all female and the mixed gender categories. The winners in the All Male category were 'Worth A Tri' (Tristan Russell – swim, Kelly Kramp – bike and Jason Maynard – run).
All Female winners were 'Splash, Flash and Dash' (Carrie Saidi – swim, Viviane Profit – bike and Sarah Chemaly – run) and the Mixed Category winners were 'Just Tri It' (Gigi Eneas – swim, Andrew Cates – bike and Carmen Vargas – run).
Overall the event saw over 100 participants in this growing sport in The Bahamas. This event also served as a qualifier for the Caribbean Championships which will be held in Miami on May 20 and also for CARIFTA, which will be held in September in Tobago.
The top five finishers in the Think Simple Junior Triathlon Championships - age groups 16-19, 13-15 and 11-12 all qualified for CARIFTA.
This will be the second year for CARIFTA Triathlon and Aquathlon Championships - the first one was held in Barbados last year - of which the Bahamas was a part of the inaugural event.
"The BTA would like to thank all of our sponsors for a great event, Aliv, Think Simple, Senor Frogs, Powerade, Go Ahead, Golden Wings Charter, Mystery Shopper, Cycles Unlimited, Doctor's Hospital, Bahamas Waste and Evolve Functional Fitness."
SEE results on PAGE 8
FINAL RESULTS
Junior Age-Group
Male Age Group 1-8
Name Age Time Position
Trace Russell 8 7.31 1st
Balthazar Sachs 7 8:11 2nd
Callum Pritchard 8 8:21 3rd
Mirko Gervasini 8 8:34 4th
Noah Richardson 8 8:36 5th
Male Age Group 9-10
Malcolm Menzies 10 21:48 1st
Jack Boals 10 22:44 2nd
Felix Sachs 10 23:21 3rd
Sean Hirt 10 25:51 4th
Male Age Group 11-12
Matthew Reid 12 24:33 1st
Jordan Cheetham 11 25:40 2nd
Zane Munro 11 28:39 3rd
Enea Gervasini 11 31:30 4th
Robert Holcombe 11 32:22 5th
Male Age Group 13-15
Oliver Townend 15 37:23 1st
Jayden Wright 13 39:41 2nd
Jessie Zywiolek 13 45:22 3rd
Noah Roach 13 48:10 4th
Jason Cates 13 49:12 5th
Female Age Group 1-8
Emma Johnston 8 7:38 1st
Taylor Knowles 8 7:38 2nd
Ellie Laslop 7 9:17 3rd
Matilda Robertson 6 11:02 4th
Female Age Group 9-10
Soifia Reid 10 24:20 1st
Millie Beukes 9 25:34 2nd
Issa Bournas 9 27:14 3rd
Chloe Negri 10 31:19 4th
Female Age Group 11-12
Kami Roach 12 26:21 1st
Erin Pritchard 11 29:02 2nd
Taliyah Bowe 11 36:03 3rd
Anjaleah Knowles 11 36:05 4th
Julia Hirt 12 36:23 5th
Adult Triathlon – 750m Swim/20K Bike/5K Run
Name Age Time Swim Bike Run Position
Male Age Group 1-19
Benjamin Derbyshire 17 1:10:14 13:02 35:11 20:51 1st
Jacob Roach 17 1:25:52 9:28 39:23 35:15 2nd
Male Age Group 20-29
Thomas Sassier 29 1:22.13 15:20 37:32 26:24 2nd
Justin Higgs 25 1:29:01 16:22 43:29 26:51 3rd
Male Age Group 30-39
Jorge Marcos 33 1:03:49 10:19 31:30 21:04 1st
Mark Dietrich 39 1:04:37 11:27 31:47 20:30 2nd
Daniel Belton 35 1:10:53 13:02 35:02 21:26 3rd
Gregory Michelier 38 1:12:28 12:53 33:54 23:55 4th
Neil Morada 37 16:15 16:15 32:20 22:57 5th
Male Age Group 40-49
Simone Bertoldo 42 1:04:55 11:46 31:07 21:09 1st
Gustavo Mery 45 1:06:21 13:02 31:51 20:06 2nd
Cameron Roach 40 1:08:23 10:20 34:07 22:52 3rd
James Nottage 49 1:09:31 13:08 31:44 23:12 4th
Sean Andrews 41 1:10:09 11:19 33:16 24:25 5th
Simon Townend 49 1:10:26 12:19 32:37 23:58 6th
Chris Wright 44 1:12:46 13:06 34:55 23:32 7th
Andrew White 48 1:13:59 13:07 35:15 23:22 8th
Ragil Cordova 46 1:14:16 16:12 32:50 24:16 9th
Benjamin Craig-Cameron 45 1:14:48 15:07 33:15 24:45 10th
Jonathan Pendlebury 40 1:18:22 15:38 37:22 23:31 11th
Gunnar Sachs 47 1:22:13 15:05 38:14 25:02 12th
Jose Cecil Magno 42 1:30:32 15:40 39:31 32:52 13th
Peter Straker 42 1:30:32 15:40 39:31 32:52 14th
Honey Almoite 46 1:33:26 23:08 37:26 29:59 15th
Male Age Group 50-59
Mark Holowesko 58 1:07:10 11:30 30:27 24:11 1st
Mark Davies 58 1:11:16 11:46 32:19 25:44 2nd
Arturo Salas 53 1:11:42 14:24 31:57 23:50 3rd
Gerald Wathen 57 1:13:05 14:24 32:48 24:56 4th
Thomas Gottberg 50 1:15:58 16:19 34:09 23:43 5th
Peter Tynes 57 1:24:24 17:45 1:16 34:28 30:03 6th
Male Age Group 60-69
Mario Carey 60 1:17:41 12:10 36:27 27:28 1st
Gregory Lowe 64 1:29:34 15:57 41:45 28:24 2nd
Jeffrey Robertson 66 1:29:53 17:20 37:20 33:23 3rd
Herman Cayaban 65 1:46:07 21:54 45:17 34:33 4th
Male Age Group 70-99
Christopher Baker 73 1:37:24 19:40 44:27 30:57 1st
Female Age Group 30-39
Anna Zywiolek 38 1:09:13 12:08 32:01 23:11 1st
Sarah Kennedy 37 1:14:58 13:05 35:46 24:03 2nd
Elizabeth Shaddock 38 1:18:18 14:12 37:25 25:22 3rd
Linzi Knowles Belton 34 1:42:16 13:22 49:25 35:35 4th
Female 40-49
Julie Salas 47 1:10:09 11:45 32:12 24:38 1st
Suzy Eneas 40 1:16:23 15:12 37:34 21:24 2nd
Katherine Bowers 45 1:20:02 12:45 37:30 28:00 3rd
Katrina Montgomery 47 1:21:55 11:36 39:21 29:04 4th
Jacqueline Derbyshire 49 1:27:17 15:09 39:10 31:19 5th
Lynn Pritchard 43 1:31:50 18:21 44:06 27:59 6th
Rita Roy 46 1:35:56 16:44 49:14 27:11 7th
Female Group 50-59
Debbie Reid 56 1:25:46 13:57 40:26 29:40 1st
Male Relay Team
Name Time Swim Bike Run Position
Worth A Tri 59:11 Tristan Russell (8:36) Kelly Kramp (29:10) Jason Maynard (20:35) 1st
Worst Game of Tag Ever 1:04:37 Jacob Roach (9:28) Felix Neely (32:52) Joe Benion (21:11) 2nd
The Father, Son & Holy Cyclist 1:07:54 Kadin Mott (10:16); Patrick Paul (30:51) Kimwood Mott (25:33) 3rd
Female Relay
Splash, Flash and Dash 1:15:08 Kqtie Roach (12:25) Kathryn de Souza (38:34) Anita Cates (27:42)
Jay Fitness 1st Rodeo 1:26:26 Kaliyah Albury (9:34) Shantell Brown (40:26) Georgette Albury (35:05)
Mixed Relay
Just Tri It 1:18:10 Gigi Eneas (9:31) Andrew Cates (36:19) Carmen Vargas (30:53) 1st
Tri Angels 1:25:58 Ellen Morgan (13:28) Paul Baker (42:57) Tara Klonaris (28:14) 2nd
BLT 1:29:14 Thomas Brannan (15:43) Bernard Gubbins (44:51) Louise Ready (27:16) 3rd