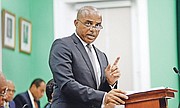 By AVA TURNQUEST
Tribune Chief Reporter
aturnquest@tribunemedia.net
NATIONAL Security Minister Marvin Dames forecast the Minnis administration has a "hell of a lot of work ahead" as the government marks its first year.
"We have a lot of work to do," he said, "we have a lot of work ahead of us. We may have accomplished some things but there is a hell of a lot of work ahead. We recognise as a government coming in that certainly the first year was never going to be easy given what we have inherited, an economy in shambles, unemployment off the charts - especially among the youth, persons struggling to survive day by day, a number of social issues, including crime, and everything else.
"I look at it as a year where you had an opportunity to examine our current structures and models. For example within our ministry of National Security...you can do one or two things, you can accept the status quo, and we know the model is broken and in need of fixing.
"So one of the things we did is we examined our model to see whether it was current, whether it would serve our needs moving forward, and if it would help us achieve the things that we had on our agenda to achieve. So recognising that was not the case we did a lot of work trying to retool, restructure, and reengineer, so we can become more efficient and we can serve the needs of the Bahamian people."
Mr Dames spoke to media following the morning session of the House of Assembly yesterday.
He also remarked on the anniversary of the sinking of HMBS Flamingo on May 10, 1980. The Royal Bahamas Defence Force will remember the tragedy and honour the fallen marines during a ceremony today.
"This is a very important period in our development as a country," he said, "when four marines lost their lives in the protection of this country. We as Bahamians should never forget that, we should never forget the sacrifices that these men made and those who survived.
"Many of them are still living today. We have one who is still a member of the defence force and so we're proud of our marines too. Often we're critical but sometimes we have to pause and see the value of what these men and women bring to our country."
Mr Dames added: "As we are at home at night or going about our business not having any concern about anything, these men and women are out there in rough waters sometimes very bad days under very tough conditions, ensuring we all are safe and we're grateful to them for that."