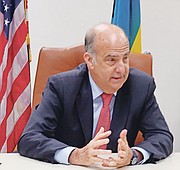 By TANEKA THOMPSON
Tribune News Editor
tmthompson@tribunemedia.net
THE United States government is looking to increase its engagement with nations in the region such as The Bahamas, with the aim of finding ways to grow economies, boost prosperity and create diversity in energy use, according to a US State Department official.
Kenneth Merten, acting principal deputy assistant secretary in the Bureau of Western Hemisphere Affairs, spoke of these goals while in The Bahamas last week. He was in town to meet with regional officials gathered at the 21st meeting of the Council for Foreign and Community Relations of the Caribbean Community, held in Nassau.
"It's been a long time since someone in my job from the State Department has been here, so I wanted to rectify that," he told The Tribune during an interview at the US Embassy in Nassau. "I had a number of terrific meetings with some of our key officials here.
"In terms of CARICOM, we have a strategy which we were asked to develop by our Congress. They passed, about a year and a half ago now, legislation called HR-4939 and in that legislation, (which passed with) bipartisan support, they asked us to develop a programme or a strategy to increase our engagement with the Caribbean.
"We sort of outlined a way forward in terms of co-operation which would involve meetings to get together to figure out ways we could help grow economies, increase prosperity, work on some energy issues to build greater diversity of energy use, more energy dependence for our partners in the region, some increased cultural exchanges, increased diplomatic engagement, work together on security issues, so all those things.
"I was able to have a number of short discussions with ministers, we had some full-on bilateral meetings with several others, I think we have very good conversations."
Talks last week included the problem of illegal immigration affecting countries in the region and the ongoing humanitarian crisis in Venezuela.
"The subject of illegal migration certainly came up..." Mr Merten said.
"We believe that migration needs to be kept legal and safe and needs to follow international norms. In many cases, I think you find that people who are aiding to migrate illegally, regardless of where they're from... these are often criminal organisations, and if they're not helping move people, they are helping move drugs or other illicit things.
"So it's all part of a larger picture... I think in terms of migration, I go back to what I said about the need for pursuing economic prosperity throughout the hemisphere, this is part of this administration's goal is to see, have prosperous partners in this hemisphere.
"A lot of countries can do more to increase their openness for investment, to create an economic microclimate which allows business, small and medium-sized to be created and to thrive, and I think those are important things."
In terms of Venezuela, hundreds of thousands of migrants have fled the crisis-stricken country in the last year to neighbouring and even distant countries. An unstable government and lack of food have fuelled their exodus.
"We remain very concerned about a number of factors in Venezuela," Mr Merten said. "Number one is the deterioration of quality of life, our humanitarian concern is for the people of Venezuela. You now have a situation where thousands and thousands of people are leaving not for neighbouring countries across land borders like Colombia and Brazil, but now going to places like Aruba, Curacao and Trinidad, and you have increase in diseases that we thought were eradicated like Polio. . . people aren't able to get enough to eat on a regular basis, so we're very concerned about that.

"The concern is also that it is a self-inflicted situation unfortunately by a government that has severely mismanaged the economy and also moved away from the Venezuelan constitution and has had and is intent to have more elections which have not been internationally supervised..."
In January, US President Donald Trump renominated California hotelier Doug Manchester for the post of Bahamas ambassador. He had a hearing before the Senate in 2017, but has not yet been confirmed for the post.
The Bahamas has not had a US ambassador since 2011, when Nicole Avant left the post.
Mr Merten said he hoped the role would be filled soon, but acknowledged the delay in doing so was the result of partisan politics in the US.
"There has been a person who has been nominated, who has had his hearing, Doug Manchester from California. I wish I could, but I can't predict when the Senate will vote on him. There are at the present time a great number of posts which are vacant around the world and frankly in the State Department in Washington as well," he said.
"We have a new Secretary of State who has said in his testimony that his goal will be to fill as many of these slots very quickly, but at the end of the day he needs to depend in many cases on Senate confirmation and that is something that none of us, not even the president, has control over, so we'll see.
"I would just say in terms of The Bahamas... it is just a very unfortunate confluence of circumstances and frankly a certain level of disagreement politically in Washington, we have had for the past several years a climate that is highly partisan."
Despite the lack of an ambassador here, Mr Merten spoke highly of US/Bahamas relations and the country's economic situation.
"I'm very animated by the need for all of our partners in the region to look at ways that we can help populations in our country live better, be more prosperous, be more economically secure. I'm very pleased to see that economic growth in The Bahamas seems to be trending upwards, I think that's a great sign. I'm happy to see that the government seems to be taking steps to try and increase economic growth, thus increase economic opportunity for people, those are things we really like to see.
"Here in The Bahamas I was really pleased to hear that the government here has taken steps to ensure that businesses can be created in as little as 14 days. That is a goal which I think is laudable and we would hope that other partners in the region would do that."