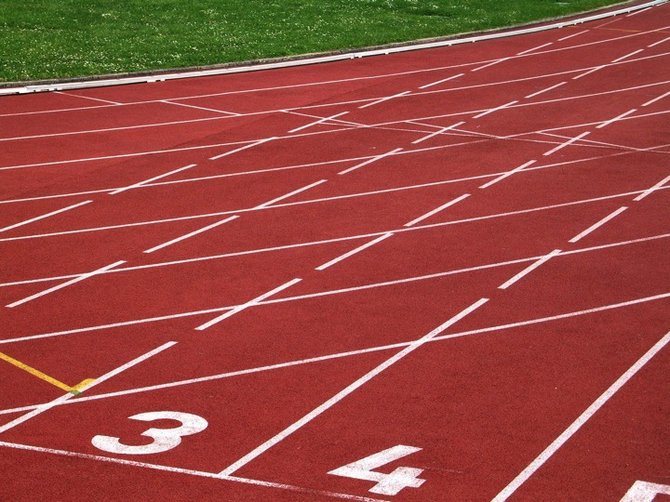 By BRENT STUBBS
Senior Sports Reporter
bstubbs@tribunemedia.net
SPRINTER Brianna Bethel, one half of the twin sisters combo from Grand Bahama, had a spectacular showing at the American Athletic Conference Championships to lead the list of Bahamians in action around the United States over the weekend.
Competing for the University of Houston where 'Golden Girl' Debbie Ferguson-McKenzie is an assistant coach, Bethel was named the most outstanding athlete after posting two personal best and championship records in the process.
She was joined on top of the podium by hurdler Devynne Charlton and triple jumper Kaiwan Culmer at the Big Ten Conference Championships.
Bethel triple threat
With Houston winning the women's title at the AACC at the University of Cincinnati, Bethel blazed to individual glory in the 100 and 200m and helped the Cougars in the relay.
Having qualified in the top spot in the preliminaries of the 100m in 11.31 seconds, Bethel clocked 11.20 to shatter the old AAC and championship records of 11.34 set by Chelsea Francis from SMU and the Gettler Stadium mark was 11.44 by Trisha-Ann Hawrthorne from UConn in 2010.
In the 200m, Bethel had the second fastest qualifying time of 23.36 before she added the half-lap victory to her tally in 22.74. Bethel again erased the championship record of 25.85, ran by Anna Novosadova from SMU in 2017, the AAC meet record of 23.00 set by Lilla McMillan of Tulane in 2016 and the stadium mark of 23.40 that was done by Hawthorne in 2010.
Bethel, in her sophomore year, ran the second leg of the Cougars' 4 x 100m relay team that won in 44.46 and she also anchored their 4 x 400m team to victory in 3:36.51 to wrap up her leading performance for Houston.
Charlton and Culmer
shine at Big Ten
In her specialty in the women's 100m hurdles, Charlton clocked 13.07 for one of her triumphs. She added a victory in the 100m in 11.22m and was seventh in the 200m in 23.61.
Penn State's junior Keianna Albury, however, wasn't able to advance in the 100m heats where she was 11th in 11.77 as Charlton posted the fastest time of 11.34.
Charlton, in her senior year at Purdue where Bahamian Rolando Greene is the head coach and Norbert Elliott an assistant, was seventh overall in the 200m preliminaries in 23.61. She also had the fastest time of 12.76 as she advanced in the rounds of the 100m hurdles.
In his senior year as well at Nebraska, Kaiwan Culmer popped a winning leap of 16.43m (53-11) on his fifth attempt in the men's triple jump. He opened with 15.11m (49-7), followed with 15.71m (51-6 1/2), 15.96m (52-4 1/2), foul and 15.85m (52-0). Also, Jyles Etienne - a freshman at Indiana - cleared 2.08m (6-9 3/4) for seventh place in the men's high jump final.
Coakley hurdled to
sixth at SEC
At the South Eastern Conference (SEC) Championships, Auburn's junior Xavier Coakley had the best showing with a sixth place in the men's 110m hurdles in a time of 13.90.
Coakley, who is a member of Auburn's team with Bahamian Henry Rolle as an assistant coach, advanced with the sixth fastest time in the preliminaries in 13.86.
In the women's shot put, Texas A&M's sophomore Serena Brown could only muster an 11-place finish with her best toss of 14.37m (47-1 3/4) on her first attempt. She fouled the second and did 14.03m (46-0 1/2) on the third.
However, she didn't post a mark in her three attempts in the discus.
LaQuan Nairn, a sophomore at Arkansas, had to settle for 17th place in the men's long jump with a leap of 7.48m (24-6 1/2) on his third attempt. He opened with 7.51m (18-6 1/2) and improved with 7.13m (23-4 3/4) on his second. He also contested the triple jump where he got 14th with 14.55m (47-9) on his first attempt. His second jump was 14.52m (47-7 3/4) and 13.43m (44-0 3/4) on his third.
Seymour clinches second place
At the Big 12 Conference Championships at the Clyde Hart Stadium in Waco, Texas, national record holder Pedrya Seymour ran an impressive 12.72, but she had to settle for second place in the women's 100m hurdles to trail her sophomore team-mate Rushelle Burton, who won in 12.65.
In the preliminary rounds, Seymour had the fastest qualifying time of 12.82 ahead of Burton's second best of 12.85.