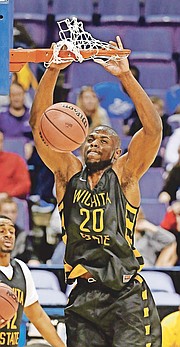 RANKED one of the top teams in the Japanese B2 League all season long, Kadeem Coleby leads his Akita Northern Happinets into the championship series.
The Happinets will face the Fukuoka Rizing In a best of three series beginning May 19.
Coleby finished with 14 points and two blocked shots as Akita closed out the semi-finals with a 99-65 win over Kumamoto in game two to close out the series.
Akita and Fukuoka split a two-game series in late March in the only previous matchup between the two teams this season.
Coleby finished with eight points and four rebounds in a 91-73 win and 21 points and nine rebounds in an 81-71 loss in game two.
Coleby continues to perform at an All-Star level for his first place team that has a 53-6 record. He has posted averages of 11.9 points, 6.9 rebounds per game on 58 per cent shooting from the field and 1.6 blocks per game.
Fukuoka Rizing advanced to the finals with a two-game sweep over Toyotsu FE.
In 2017 during the Bahrain Premier League, Coleby was a member of Al Muharraq and was an integral part of the team's run to the Cup final and league runners-up after a loss in championship series to Al Manama.
After the season, Coleby signed with Al Manama for the 37th GCC Clubs Basketball Championship Tournament.
The prior season, the former Wichita State Shocker was a key member in Al Manama's title run – their fourth consecutive and 20th overall. He finished with 23 points in the season finale. In 2015, the 6'9", 250-pound forward played with Al Fateh Al Hasa of the Saudi Arabian Premier League.
He contributed to his team making it to the final after they ended the regular season as the second best team. He prepped himself for his professional debut with Geneva in Eurobasket Summer League in Las Vegas, which is considered the top summer league for players seeking to make the pro leap to Europe.
After a collegiate career which included stops at Odessa Junior College and Louisiana Lafayette, Coleby found a home in his senior season at Wichita State.