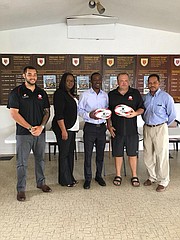 FREEPORT Rugby Club is scheduled to host its eighth annual Junior International Rugby Festival May 19-20 in Grand Bahama at the club's home field on East Settler's Way.
This year's tournament will include sides from Key Biscayne, Florida, the Cayman Islands, Bermuda, and New Providence will travel to play in the two-day tournament.
This annual exhibition is a great showcase for the sport and will feature players from eight to 16 years of age.
The festival is a culmination of months of dedication from Freeport's coaching staff, players and leadership group.
Stephen Sheehan, a youth development officer hired to promote the club's rugby and soccer programmes, has made a significant impact on the island.
Sheehan has set up programmes at Jack Hayward High, St George's High and Sunland Baptist Academy to help instruct students about the game of rugby.
With Sheehan on board, the club's rugby and soccer programmes have seen increased membership across the board, with youth athletes representing many of the island's schools, including Bishop Michael Eldon, Jack Hayward, Lucayan International School, Sunland and Tabernacle.
"Working for the rugby club has been a tremendous experience, and this is just the icing on the cake," Sheehan said.
"We look forward to two days of great rugby with new friends from all over the world."
The event represents a fantastic tourism opportunity as the club expects more than 400 players, coaches, parents and supporters to arrive on the island.
The club extends its gratitude to its generous sponsors for the event, including the Bahamas Tourism Board, MSC, Pelican Bay, BTC and GB Shipyard - all of whom have made this event possible with their generosity.
Said President Rob Speller:
"As a non-profit organisation we rely on the goodwill of our members and sponsors to enable all our youth programmes to operate and to host such an event as the festival proves what we are doing at the club is working for the junior members.
"Our aim has always been to provide boys and girls in our community a safe environment to play soccer and rugby," he said in a press release.
The club welcomes spectators to watch the action, which is all set to kick off at 9am Saturday.
Photos and videos of the tournament will be posted on the club's social media accounts.