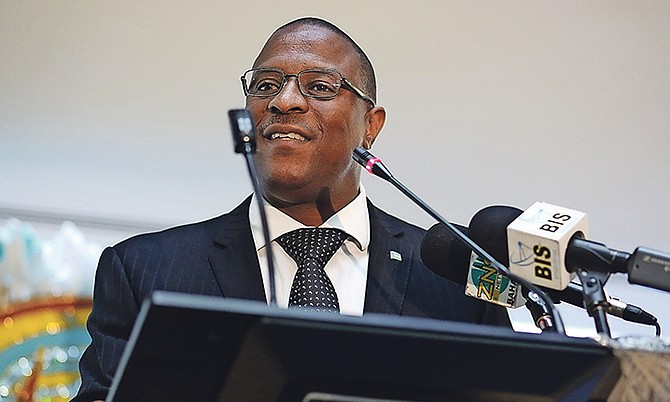 By DENISE MAYCOCK
Tribune Freeport Reporter
dmaycock@tribunemedia.net
YOUTH Sports and Culture Michael Pintard yesterday extended his appreciation to educators for continuing to inspire and shape the lives of young people who will be the country's future leaders.
He urged them to stay faithful to their calling and not to be discouraged or frustrated by the many inadequacies and challenges they face as teachers.
"I know you are in a difficult profession where many you have groomed those who have become policymakers that have done very little to transform the condition of teachers in the country," he said while addressing educators and staff at a Teachers Appreciation Prayer-Breakfast at the Walter Parker Primary School, which is located in his constituency of Marco City.
The MP noted that teachers are responsible for shaping and stretching the minds of the new generation of business leaders, pastors and politicians who are questioning traditions that to them make no sense.
According to Mr Pintard, educators are more than just teachers.
"I wish to say thank you, particularly at the primary school level for catching us at the finish line after we run a grueling race; thank you for helping us to blow our nose, wipe our eyes, and adjust our uniform when the morning rush or breaks left us disheveled," he said.
"Thank you for the subjects with which you teach with such clarity, steeped in research and tailored to our way of learning since many of us learn differently."
Minister Pintard said teachers have unselfishly used their resources to decorate and buy materials for the school, their classrooms and help their students.
"Thank you for using your scarce resources to help children; thank you for sacrificing your time, energy, and resources; thank you for sacrificing your own family time; thank you for your love and patience to deal with children and help them find the correct path…so they can deliver on the promise that God has placed in them," he said.
The MP said teachers have the most significant influence on the lives of young people. He noted that educators have made the difference in the lives of many Bahamian athletes who are competing internationally.
"Just recently two Grand Bahamian sons (Demetrius Pinder and Michael Mathieu) returned home to be celebrated. I know beyond a shadow of a doubt that in this room some persons who saw them and felt a sense of pride because something you did, or you spoke into their lives made a difference. You have helped cultivate those lives so they can be excelling on the international scene," he said.
Mr Pintard indicated that they had played a pivotal role in shaping a number of young people who have become business leaders, ministers of the gospels and policymakers who are doing good things in society.
Minister Pintard told educators not to abandon their calling. "When you look at what you have done, I am asking you when considering alternative vocations to consider this legacy you have. Do not allow newbies or the nature of our system to cause you to stray away from what you know instinctively is your undeniable calling," he stressed.
"I am asking you to stay true to your calling, do the things you know you have been called to do even when the remuneration does not make sense, and when there is lack of appreciation."
Mr Pintard encouraged the educators, staff, and administration of Walker Parker to continue to be committed to transforming young lives.
"You have the opportunity to create a culture at WPP where people will comment on the way you do things and the products you produce - a new generation of elementary students that people would be pandering to receive them from you."
The minister also encouraged educators to speak up whenever a change is necessary.
"Stay the course; I am not asking you to be quiet because wherever change is necessary you have an obligation to usher it in, even if your party is not in power and we have an obligation to hear you and be responsive to reasonable requests and demands," he noted.