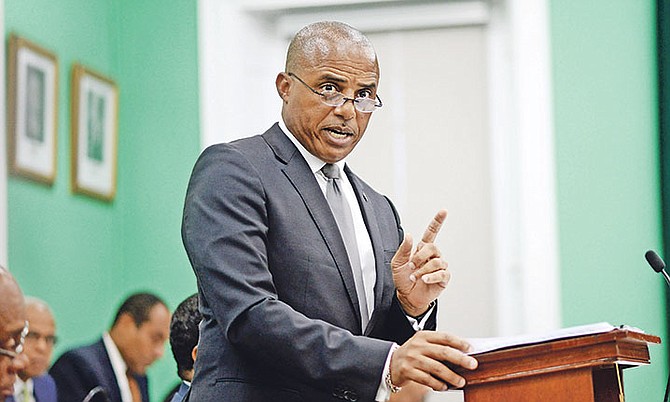 By RASHAD ROLLE
Tribune Staff Reporter
rrolle@tribunemedia.net
RESEARCHERS who conducted a manpower audit of the Royal Bahamas Police Force flayed last year's promotional exercise in their report while revealing the top-heavy Force needs 791 more constables to be more effective.
The audit said last year's promotional exercise just days before the 2017 general election contravened policing policy when former police Commissioner Ellison Greenslade participated in the interview process.
"The Commissioner of Police headed the Promotion Board (that interviewed officers) instead of the Deputy Commissioner who is mandated by policy to assume this role," the report, tabled by National Security Minister Marvin Dames, told the House of Assembly yesterday.
"This portion of the process was initially designed to give a certain degree of impartiality on the boards so as to be devoid of the commissioner's input."
More disturbing was the vacuity of the interviews conducted, a process that left officers "baffled".
"One officer said: 'When I got into the interview I was asked if my shoes were clean and then an interviewer made a joke, after which I was told that the interview was finished," the report said.
"A sergeant said: 'There was no reference made to my job performance, in fact, I was asked how my mother was doing and then I was dismissed.
"An inspector stated: 'We were brought into the interview room in a group of four and, all asked, how we were doing and then the interview ended."
Researchers concluded that some officers "may or may not have been promoted justly/unjustly due to the lack of any systematic proof that they were the most qualified candidates. As for individuals not promoted, they may or may not have been justly/unjustly denied promotion as no systematic process was followed. Based on these comments it is unclear how officers would have had an opportunity to interview for promotions if they were not properly assessed during this process."
Researchers added: "There is much cause for concern as a result of the last promotion exercise in particular, as there appears to be inconsistent practices, some of which were in violation of the Police Act. The effects of poor decisions and unfair practices often have lasting effects and are most detrimental to the morale of young officers... Not because an officer has been on the force for 20 years means he is suitable for an automatic promotion. There is no underlined principle which governs this process or any reasonable link between job descriptions for each post which should be the benchmark for promotion from one rank to another. While policy exists to allow for impartiality in promotional exercises, the policy wasn't followed in the last two instances."
The report's findings may not surprise many Bahamians. There was heavy criticism last year when 851 officers were promoted on the eve of the general election, many critics believing the action was politically motivated.
Nonetheless, researchers said the exercise only compounded the RBPF's problem of over-saturation at the senior ranks. Researchers said in the last decade or so there has been an explosion in the ranks of senior officers without any reasonable explanation.
Between 2011 and 2017 the number of chief superintendents increased by 2200 percent; likewise, the number of superintendents increased by 212 percent, from 33 to 103.
As part of their analysis, researchers assessed how much officers are necessary at each rank. Currently, the force has one more deputy commissioner than is necessary, they concluded; it has two more senior assistant commissioners than necessary, four more assistant commissioners than necessary, 12 more chief superintendents than necessary, 13 more superintendents than necessary and two more assistant superintendents than necessary.
While there has been an increase in senior ranks, no value has resulted from this, researchers concluded.
"Despite the force ebbing top heavy, very little, if any, of the strength in numbers is translating into evidence-based leadership which would allow the agency to keep pace with 21st century policing leadership," the report said.
"Officers as they are promoted should add more value with reference to increased knowledge and core competencies, relevant to the higher ranks. Consequently, despite having the highest complement of officers in senior ranks there is no conceptual transfer of knowledge to improve the agency's overall processes and effectiveness."
On the other hand, the force had 837 constables when the report was compiled but needs 791 to better protect Bahamians. Researchers said the consequence of an inadequate number of junior officers is that junior officers in service now "are at risk of related stress factors due to physical threats of violence, high speed chases, and general exposure to dangers which are further hampered by work schedules and physical environments. With the shortage of front-line officers, as indicated by the strength, the threat of work role overload in which officers may feel fatigued and overwhelmed increases."
Among other things, the shortage has affected the RBPF's intelligence gathering capabilities, with researchers noting: "…Areas of policing such as shootings, mobile and foot patrols inclusive of traffic stops, intelligence gathering and stop and searches are not recorded and analysed."
Attrition remains a significant problem for the force.
"Between January 2016 and September 2017, 145 junior officers exited the system," according to the report, noting the number of departing officers is set to increase by 33 this year when some officers retire.
The report was created by the Research and Development Section of the Ministry of National Security.