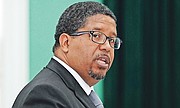 By DENISE MAYCOCK
Tribune Freeport Reporter
dmaycock@tribunemedia.net
THE smart technology and services available at the newly renovated YMTA in Hunters will provide "real tangible benefits" for persons living in the various outlying settlements in the Central Grand Bahama constituency.
Deputy Prime Minister Peter Turnquest on the weekend officially opened the facility, which he believes serves as a model not only for other recreation centres in Grand Bahama but also for New Providence and the other Family Islands.
The centre, equipped with state-of-the-art smart technology, allows residents access to free WIFI. It is powered by wind and solar energy and has an LED lighting system with security surveillance cameras.
The YMTA (Young Men Training Association) was significantly damaged during Hurricane Matthew was renovated and improved at the cost of $100,000, according to Iram Lewis, the MP for Central Grand Bahama.
On Saturday at the opening, the facility was renamed after founding member Mr Wheatley Grant of Hunters. The Basketball Court was named after former long jump Olympian Fletcher Lewis, a resident of Hunters, and the playing field after Bernard 'Tampa' Russell, another founding member of the YMTA.
Mr Turnquest said: "I looked at some of the programmes you hope to run from this centre; this is going to be a haven for young children to come to learn, experiment, and play in a safe, secure environment. It is also going to be a place where they can learn new skills."
"I am sure we will take from here today this solution to Nassau for them to use on the parks there because this is an efficient way to get service to these parks cost-effectively," he said.

The DPM commended IQ Energy, a new company, for introducing smart technology solutions at the centre. "I want to congratulate them for being creative by going out and blazing a trail doing research and bringing back to the Bahamas effective solutions that contribute to this country," he said.
Mr Turnquest said that the YMTA centre has a very strong history, and has been through several hurricanes that caused damage and forced its closure.

"This is a community effort and one that this community should be proud. One of the focuses of the government is to ensure that we provide wholesome spaces for young people to grow, learn, and recreate.
"This facility is certainly within keeping with the government's aim. The services and experiences to be provided here are going to assist in building the kind of citizenry that we want… to build this community, island, and country."
Minister Turnquest indicated that the PM is committed to ensuring that there is no community in this country left behind – that does not have access to technology, to WIFI, and all the state has to offer.
"Indeed, we understand one of the ways to bridge our diverse and separate islands and communities is through technology. Many of you would remember in his first stint as a Minister of Health he was big in the telemedicine project, which, unfortunately, was delayed. But now it is going to be relaunched in a real way which will assist these communities to have access to online real-time diagnostic services so that we can utilise our specialists in the most effective and efficient ways."
"This offer of free WIFI is absolutely in keeping with what we are trying to do throughout this country, and it is a major initiative of the Prime Minister in Nassau with his Over The Hill initiative."
Mr Turnquest, the MP for East Grand Bahama, said he too expects to introduce similar smart technology to the parks in East End.
"It is about empowering our people… and bringing solutions to the country and communities to provide real tangible benefits to our people. I am proud of what you are doing in Hunters, Mack Town, Pinder's Point, and Lewis yard to empower your people,' he said.

He commended the founders of the YMTA such as Mr Granville Lewis, Lionel McIntosh, Talmage McIntosh and longtime president Mr Wheatley Grant. "Thank for your sacrifice and the gift you have given this community and all you continue to do to support these communities," he said.
Mr Turnquest stated that the golf program that will be offered at the centre could provide an avenue for young people to obtain scholarships.

"A lot of time we focus on track and field and basketball, but some of the easiest scholarships are in golf, archery, tennis - these no traditional sports. I am happy to see you doing golf here. I want to see some kids going to the Olympics doing non-traditional sports,' he said.
The DPM commended Iram Lewis for the work he is doing in the Central Grand Bahama constituency.

"You elected, almost one year ago, a wonderful gentleman who has been driven and focused on this constituency. We are proud of the work Iram is doing here in this community and the wider Central GB. We celebrate him and his achievement. We trust you will continue to support him," Mr Turnquest said.
Mr Lewis said that he was passionate about the restoration of the YMTA. He believes it is essential that "foundational communities" such as Hunters, Mack Town, Pinder's Point and Lewis Yard are supported.
"What you see here today is the first step towards empowering the local Grand Bahamians. A building is only as strong as the strength of the foundation, and these foundational communities need to be strengthened. What you see here today is not the effort of one man, it is a team effort; a team effort led by Almighty God, he said.
He acknowledged his team that supported his vision to rebuild the community centre in Hunters."They bought into the vision and plan, and we recognised that the economy of The Bahamas is not where it used to be," Mr Lewis said.