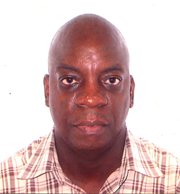 By BRENT STUBBS
bstubbs@tribunemedia.net
I LIKE the position that Bahamian DeAndre Ayton finds himself in going into the National Basketball Association's June Draft.
Based on the order of picks determined on Tuesday night, Ayton can either remain in Arizona after he was one-and-done at Arizona State, if he goes No.1 by the Phoenix Suns, or he could end up joining Grand Bahamian Chavano 'Buddy' Hield with the Sacramento Kings, if selected with the second pick.
If he drops to No.3, Ayton could find himself with the Atlanta Hawks. Awarded the fourth and fifth picks are the Memphis Grizzlies and the Dallas Mavericks. But don't look for Ayton to go outside of the top three, even though this is considered a loaded class of NBA rookies.
From all indications and observations from around the league, Ayton should be contending with Duke Blue Devils' forward Marvin Bagley III and or guard Luke Doncic, if he decides to come out of Europe for one of the top three spots.
The early prognostication is Ayton will go first and if he does, he will become the second Bahamian to be drafted first overall, joining 6-10 Mychal 'Sweet Bells' Thompson, who was selected by the Portland Trailblazers in 1979 as the first foreign-born player to go No.1
Nowadays, Thompson broadcasts home games for the Los Angeles Lakers, whom he was traded to after he spent eight years in Portland and a half of a season with the Suns. He would go on to win back-to-back NBA titles with the Lakers in 1987-88 before he retired in 1991.
More importantly, however, Thompson also gets to watch his son Klay Thompson as he follows in his father's footsteps, having already won two titles with the Golden State Warriors in 2015 and 2017 and could go for a third, if they can get past the Houston Rockets in the Western Conference Final that is currently underway.
The 7-1, 250lb Ayton is described as a tailor-made centre for the NBA, although he only decided to play one year in college. At 19 years of age, he is modelled after players like Hakeem Olajuwon, formerly of the Rockets and "the Admiral" David Robinson of the San Antonio Spurs.
Wherever he ends up, the expectations are high for him to step into the NBA and make an impact right away. Sure would be good if he could join Hield, the 24-year-old guard now in his third season in the NBA. Who knows what will happen? Hield was selected as the sixth pick by the Pelican Suns in 2016 out of Oklahoma State. But on February 20, 2017, he was traded to the Kings.
We don't expect that for Ayton. Wherever he goes, he's expected to be a franchise player. We just have to wait and see whether it's the first, second or third pick on June 21. The top pick to send him to Phoenix is fine where he could get developed in the post under their new head coach Igor Kokoskov.
But it's more intriguing to see a Bahamian duo playing alongside each other in Sacramento, coached by David Joerger. Both teams could benefit from Ayton's ability as they look to improve on their dismal showing this past season, finishing 15th and 12th respectively in the Western conference.
Congrats are in order
While some of the elite athletes like Steven Gardiner, Shaunae Miller-Uibo and Donald Thomas were holding down the competition at some of the international meets, hurdler Devynne Charlton and Grand Bahamian sprinter Brianne Bethel were holding their own at the collegiate conference meets.
With a pair of individual victories and a second place finish, Charlton, in her senior year at Purdue University, was named the Big Ten Track Athlete of the meet. With two individual victories on meet record-breaking performances, Bethel, a sophomore at the University of Houston, earned the American Athletic Conference Female Track Athlete of the meet crown.
The collegiate athletes will be back in action this weekend in their regional competition in their bid to advance to the NCAA Championships to close out their season.
Coming off their victories at the IAAF Diamond League Meeting in Shanghai, China, Gardiner and Miller-Uibo will both be in action at the 3rd Adidas Boost Boston Games on the street before they head to Eugene, Oregon, next weekend for the Prefontaine Classic.
Although this is not a banner year with any major competition on tap, the Bahamian track and field athletes have been holding their own.