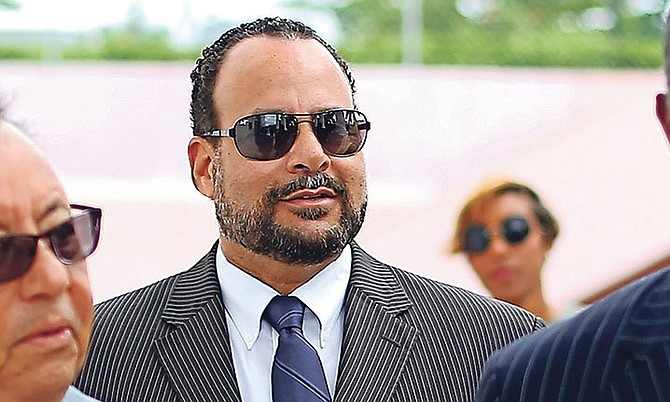 By RASHAD ROLLE
Tribune Staff Reporter
rrolle@tribunemedia.net
THE Crown's lead attorney in the Frank Smith bribery and extortion trial, Edward Jenkins, QC, conceded Friday there are discrepancies between the call logs of virtual complainant Barbara Hanna and Mr Smith's phone bill.
He suggested the Crown does not intend to dispute the fact. His admission came at the end of yesterday's hearing which featured cross-examination of Corporal Cory Adderley, a police analyst. The Crown submitted Ms Hanna's call logs to the court as evidence. The defence submitted Mr Smith's phone bill.
Corporal Adderley admitted under cross-examination by Damian Gomez, QC, that there were numerous discrepancies between the logs and the bill. On Thursday, a former BTC auditor, Marlon Gary Smith, said the discrepancies could be due, but not limited to, changes made to the log prior to its submission to court.
But Mr Jenkins suggested the inconsistencies are immaterial to the Crown's case.
"The billing does not show all alleged calls," he said.
Chief Magistrate Joyann Ferguson-Pratt thanked him for the admission.
She insisted the trial be dealt with expeditiously. She, the prosecution and the defense laboured to lock down an adjourn date for the matter, mindful that witnesses may want to take a vacation during the summer months. The trial was eventually adjourned to June 11th at 10am.
Smith is facing 15 criminal charges concerning his alleged solicitation of $65,000 in bribes from a woman he is said to have assisted in getting a contract. He is currently out on $50,000 bail.
It is alleged that Smith, between April 2016 and April 2017, in respect of his duties as a public officer, demanded and obtained $5,000 per month from Barbara Hanna, knowing he was not lawfully authorised to do so.
He is also alleged to have attempted to extort another $5,000 from Ms Hanna.
Concerning the bribery charge, it is alleged he solicited $5,000 a month from Ms Hanna for aiding her in getting a contract with the Public Hospitals Authority.
Smith pleaded not guilty to all the allegations during his arraignment.