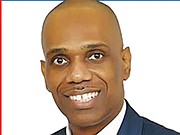 By AVA TURNQUEST
Tribune Chief Reporter
aturnquest@tribunemedia.net
AMID calls from within his party to silence him, outspoken Pineridge MP Frederick McAlpine was yesterday saluted by another adversarial group, Rights Bahamas.
In a letter yesterday, RB vice-president Joseph Darville said the Free National Movement stood to profit tremendously if they regarded Mr McAlpine as a prophet.
"Knowing him from as a young student at Grand Bahama Catholic High School," Mr Darville, a retired educator said, "he had the makings of a prophet even at that tender age. As he has grown to a certain level of maturity that courage, that resilience, even his self-sacrifice, became his rock-foundation qualities.
"If he is going to be sacrificed, as was Jesus, simply because he is outside of the regular political machinery, as priest, preacher, minister, it means the FNM is not yet ready for full transformation into the realm of an enlightened mode of governance in this nation. Graced with compassion, wisdom, knowledge and knowingness, the Rev is certainly a wild-card; so was Jesus Christ."
Mr Darville continued: "Jesus was in the midst of his own, the Jews; he was not only crucified, by his own, he was not just tied to the cross, as was the usual custom, but actually nailed to the cross; that symbol carried the definitive message of what could happen if you rock the boat. Rev Frederick McAlpine is sure rocking the boat, but if it is balanced, forward, onward and upward focused, it shall only benefit from the massaging waves he is creating.
Mr McAlpine has experienced some backlash from recent statements critical of the government and it's progress on campaign promises, with calls made by FNM chairman Carl Culmer and former Cabinet minister Tennyson Wells for him to temper his assertions and claims.
At a church service marking the anniversary of the party's first year in government, Prime Minister Hubert Minnis warned party members not to attack each other or criticise the government's efforts publicly because it would prop up the opposition's campaign.
Mr Darville said: "Jesus was rebellious; he was not afraid to shift the message and proclaim the genuine love of God for mankind; he proclaimed the coming of God's Kingdom on Earth. He claimed equality with God. Thus, He too was considered an evil priest; but, as with Rev. Frederick McAlpine, he came with a message of dispensation.
"He created many waves, but it's His Mission which is still the most profound and love-centred on this planet. Salute to whomever follows that path of Godliness. Politicians are not exempt from this gift; maybe the good REV. came on schedule?
He said: "Woe be unto the FNM, or any other political organisation, if it were to thus crucify Rev. McAlpine.
"I applaud him and the other wild-cards roving the halls of the parliament, whether FNM or PLP. Without them, there can be no change; they bring a dawning of new wisdom and connected-ness to the masses which symbolizes the mission of Jesus; they are ready to feed the five, six, seven… and many more thousands. I give my blessings and good wishes to Rev. McAlpine and the other valiant, fearless, courageous and prophetic warriors given the Jesus-task of deliverance of our still-in-bondage people."