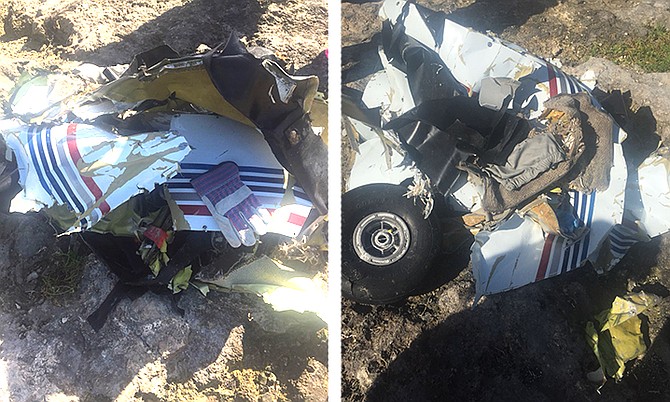 By Morgan Adderley
Tribune Staff Reporter
madderley@tribunemedia.net
FOUR months after the fatal North Andros plane crash, victims' families are hitting out against the government for the "inhumane" treatment they have received.
A major concern has been the repeated delay in DNA testing, which has prevented the families from obtaining death certificates, receiving remains, and ultimately, giving their loved ones the dignity of a proper burial.
With the assets of the deceased still frozen, no National Insurance benefits can be collected, and the relatives of three crash victims say they are prevented indefinitely from getting proper closure.
Kermit Adderley Jr's 49-year-old mother, Margaret Adderley, was travelling to see her newborn grandchild that ill-fated morning.
Last Thursday, Mr Adderley wrote an open letter to Prime Minister Dr Hubert Minnis, criticizing the government for its role in prolonging the families' pain.
Mr Adderley told The Tribune that no government official has provided the families with updates on the status of their loved ones' remains, adding the only updates in the investigation have come through the media.
The week of the accident, he provided DNA samples to help identify his mother.
At that time, Mr Adderley said an officer at the Princess Margaret morgue indicated to him that "only legs" had been found.
However, Mr Adderley was not taken in a room to see any of the remains, nor was it confirmed to whom they belonged.
"We didn't get a word as to whether it was remains of six people, whether it was remains of two people; nothing of that nature was ever relayed back to the families," Mr Adderley said.
He said he was simply asked: "Whether I was aware [of] the colour fingernail polish that my mother had on her toes."
Desiree Russell and her 10-year-old daughter Destinique Wilson were also among the victims of the crash.
Yesterday, Russell's sister Vandeka Stuart relayed similar sentiments.
Ms Stuart said her family provided DNA samples about three days after the accident. However, they have received no updates since then.
"My sister just went [to the morgue] sometime last week or so and every time we go there the DNA results [aren't] ready yet," she said.
When they inquire about the delay, the family is simply told that there "are people who are ahead of [them] that's also waiting on DNA results."
Mr Adderley added that while he understands that DNA analysis can take a while, "four months is ample time".
"We have no idea who to reach out to," he said.
The families also criticized the way the search for the wreckage was handled.
On Facebook, Mr Adderley criticized "a particular minister" for "[going] as far as to denounce the discovery" of the plane.
He told The Tribune the minister's remarks were a "blow" to his family.
Officials suspended their search and rescue on January 19, stating "the complete aircraft could not be located and retrieved."
On February 16, a video was uploaded to Facebook purportedly showing that locals had found the wreckage and human bones at the site.
Tourism and Aviation Minister Dionisio D'Aguilar responded to the video four days later, calling for the wreckage to be thoroughly investigated before any confirmations were made.
At the time, Mr D'Aguilar said: "It's important that we get the right plane as it has been brought to my attention there was a similar plane that went missing about two to three years ago."
Six days later, crash investigators confirmed that it was from the North Andros plane.
Ms Stuart said she "broke down" upon seeing the video.

"[I] broke completely down. Because I was like…if they had done their job the right way, we could've gotten the remains [earlier]; maybe could've find whole bodies."
"We could have gotten more answers," Ms Stuart continued, "and make more sense out of what happened."
Mr Adderley added the minister's remarks were "heart-wrenching".
"No one ever knew, from being from Andros, of another plane crashing in that area," he said.
"So for you to come and say…that's a plane that crashed four years ago, we'll have to see if that's the plane; that was utmost foolishness."

The repeated delays of the DNA results have also had financial ramifications on the families.
"We don't have a death certificate in our hand even to conduct business on her behalf," Mr Adderley said.
"All the bank accounts and whatever else, they [are] basically on freeze."
Mr Adderley said: "[My mother's] name was on my younger brother's account, the same thing happened. He has no access to it now because again, there is no death certificate to say that she has expired and someone else will conduct business on his behalf. Because he is still a minor."
Ms Stuart added that her family has not been able to collect anything on her sister's behalf from National Insurance.
Dr Hubert Minnis told reporters these concerns were "reasonable" outside a service held for the victims on January 26.
The prime minister said: "I think families want resolution, quick resolution; you know the problems with insurance, etc. And there will be especially the kids...who are certainly wondering when their parents are coming home, when their friends are coming home.
"But with resolution those questions will be answered. And therefore we will, as you know DNA takes some time. But we will do to ensure it is done as quickly as possible to bring resolution to this tragedy."
Four months later, both families are still seeking closure.
"We just want closure. Mother's Day passed, and honestly it was hell," Mr Adderley said.
"There was nothing I could have absolutely done, there was no place I could have taken an arrangement. I just was glad when the day was over."
Ms Stuart said her sister left behind four sons, aged 16, 13, 12, and five.
Her voice broke when she described the impact the delays have had on her nephews.
"The baby [is] always expressing his feelings, he always complaining about why he don't have a tomb to go to visit his mom or his sister," she said.
"[He] really does take it hard."
Mr Stuart said that Russell's eldest son had to spend Mother's Day with a photo of his mother and sister. She added that no one has reached out to provide counselling for the kids.
When asked if there is anything she would say to government officials, Ms Stuart answered through tears.
"Speed up the process," she said "try do something so my family can begin to heal. Because it isn't easy. There's no closure at all, none whatsoever."