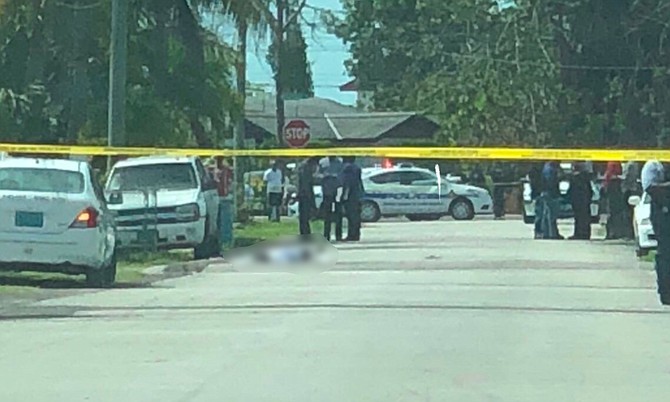 By RASHAD ROLLE
Tribune Staff Reporter
rrolle@tribunemedia.net
GUNSHOTS cracked the air as seven children played on a South Beach park yesterday morning. Feet away from them, a man in his early 30s lay dead.
"I saw the body," one boy playing on a slide said as The Tribune spoke to an adult.
"We saw it too," the others chimed in.
The children ranged from five to 11.
Police Chief Superintendent Solomon Cash said it's too early to say what the motive was for the latest killing, which happened shortly after 10am. The victim was walking on South Beach Drive when a man approached him and opened fire, hitting him about his body before fleeing on foot.
This was the 33rd murder for the year.
Rickell Thompson, the mother of the oldest girl on the South Beach park yesterday morning, said she worries how the killing will affect the children; one child told The Tribune the images will linger in his mind.
"This is a park where children play," Ms Thompson said. "My cousin in Pinewood called me, she say 'Kell you hear the shots? I say what shots? I ain hear nothing. I say let me put on my clothes and see what happen. One of my neighbours, she had a video of it where he get shot in his head and his chest."
She said she found the children on the park when she arrived. They told her they had just bought treats from a nearby shop when they saw part of the incident from the park. She said: "When I heard there were gunshots I say I hope ain' none of the people children and ain none of mine caught in this."
She said she'll tell her daughter, "you got to be careful, got to play safe, if you going some place let me know and I'll go with you."
"This usually a peaceful place," she added. "We usually don't have these kinds of things around here."
The oldest boy in the group agreed.
"We might see like fat women fighting 'cross the road (but that's it)," he said.
Yesterday's murder came after a particularly bloody holiday weekend which saw a number of shootings and stabbings.
On Thursday, police reported a man was stabbed in the area of KFC in Oakes Field. The victim was attacked by a group of people and subsequently stabbed shortly after 4pm.
Shortly after 9pm that same day, police were called to an incident in the area of the Produce Exchange at Potter's Cay Dock where a man was fired upon and shot.
Police yesterday said both men were listed in stable condition.
In the early hours on Sunday
In the early hours of Sunday morning police were called to another incident where a man, sitting in his vehicle at the Shell service station on Tonique Williams Darling Highway, was shot by a man with a firearm.
Then just after midnight on Monday another incident occurred in the Douglas Road, Gambier area that left two men hospitalized while their assailants fled in a grey coloured Honda Accord.
Two hours later police were called to another incident at a party in Eastwood Estates where a man had been shot during an argument with several other men.
While the shooting victims in the non-fatal incidents are listed in stable condition, police yesterday said the stabbing victims are listed as being in serious condition.
Anyone with information that might assist police investigations are asked to call police at 919 or Crime Stoppers at 328-TIPS.