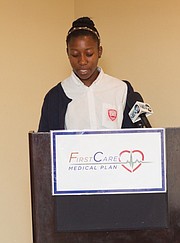 Alexandria Rolle's call for more inclusion of autistic and other special needs children within the local school system has won her this year's Autism Awareness Essay Contest.
The 11th grade St Augustine's College student included two major proposals in her winning essay: mandatory inclusion of special needs children in regular classrooms as well as required lessons on autism for all students.
She suggested that there be an amendment of the Education Act to legislate mandatory inclusion for students with autism and other special needs in the regular classroom, noting, "Autistic students would learn to assimilate into society and develop social skills with the help of their parents, teachers and peers."
Alexandria also proposed that the Education Act be adjusted to include mandatory lessons on autism for all students at the primary and junior high school levels, so that "students would learn what autism is and how others should treat those with the disability".
As the grand prize winner, she received a $300-cheque from FirstCare Medical Plan, a tablet courtesy of Custom Computers, and gift certificates from The Shoe Village, John Bull and AML Foods Ltd.
The winners for the sixth annual Autism Awareness Essay Contest - a joint effort of FirstCare Medical Plan, the Ministry of Education and REACH Bahamas - were announced at an awards ceremony held last week.
This year's contest challenged high school students nationwide to pen a 1,500-word essay under the theme "If you had the power to pass two laws that would better the lives of children with autism, what would they be and why?"
Entries were received from students throughout the Bahamas.
"Better knowledge of autism leads to more understanding, tolerance and acceptance," said Corinna Neely, president of FirstCare Medical Plan. "Our goal remains to challenge students to expand their knowledge on Autism and create a society that is empathetic and promotes inclusion for those affected by this disorder."
The essay contest is held every April, which is internationally recognised as Autism Awareness Month. Autism remains the most rapidly growing critical developmental disability within the Bahamas.
"Life is about how you can use your talents and abilities to advance and mobilise others to do the things that are made for the common good," said Acting Director of Education Marcellus Taylor. "We as a society, have a moral responsibility to help those who can't help themselves. In any society, we are only as good as how well we take care of those who can't take care of themselves."
A panel of judges from the Ministry of Education and REACH poured over the essay submissions to select the three winners. The winners were awarded cash and prizes valued at more than $2,000.
First runner-up, Aretha McDonald, an 11th grade student at Aquinas College, and second runner-up, Joseph Townsend, an 11th grade student at Sir Jack Hayward High School in Grand Bahama, each received a $200-cheque from FirstCare Medical Plan, as well as gift certificates from The Shoe Village and AML Foods Ltd.
"This year, the government offered us Crown land, praise God, and it's a critical step forward for us," said Marcia Newball, executive director of REACH. "We see it as part of our vision being completed in the 'cradle to the grave' programme that we have planned for children on the autism spectrum. This is so that after the summer camps and other training, the children can become young adults living independently of their families, able to support themselves. We have a lot on our plate and we wouldn't have gotten this far without continued support from organisations like FirstCare."
FirstCare Medical Plan has pledged to continue their work with REACH and to host the Autism Awareness Essay contest for many years to come.