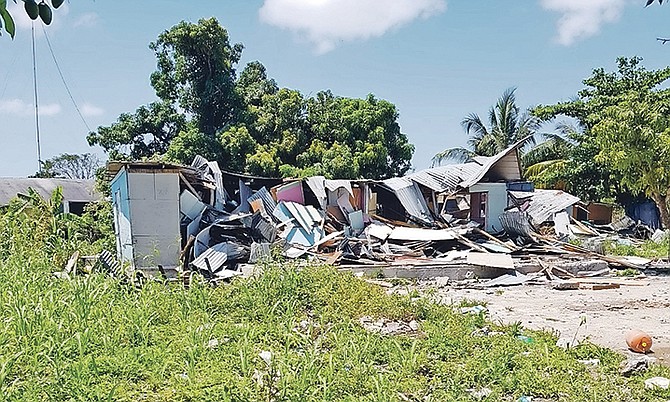 By KHRISNA RUSSELL
Deputy Chief Reporter
krussell@tribunemedia.net
LABOUR Minister Dion Foulkes said yesterday the government does have a plan which addresses mounting frustrations from those in the Haitian community who say demolishing shanty towns will leave many homeless.
However, Mr Foulkes told reporters he did not want to announce this plan, adding officials had given it a lot of consideration.
This comes as shanty town residents in New Providence have been given a deadline of July 31 to move along with residents of Abaco shanty towns, namely the Mud and Pigeon Peas.
As work continues, Mr Foulkes who is chairman of the Shanty Town Action Task Forced, said a date had not been set for the start of a census in Abaco where there are several major shanty towns. He previously announced officials would conduct a survey on that island following the completion of a questionnaire in the capital.
"This week I am meeting with the leaseholders of the land," the minister told reporters ahead of yesterday's Cabinet meeting.
"All of the shanty towns are located on land that has the legal vested right in Bahamians.
"And I want to meet with them to basically give them notice of what we are doing and give them the opportunity to rectify the situation."
Asked where people with status living in shanty towns were expected to go when their homes were torn down, Mr Foulkes said: "I do not want to announce it now, but we have a plan that we are going to follow. We have been giving this a lot of consideration and I want to assure the Bahamian people that it is very precise and it is going to be done in a methodical way.
"We are not going to be rushed and we are not going to be pressured. In shanty towns are children so we have to be extremely sensitive."
Preliminary census results released last week show that of the total number shanty town residents, an "overwhelming" 70 percent have a legal right to reside in the country.
The survey conducted by the Shanty Town Action Task Force (SATF) assessed 1,410 residents from the 428 households, and revealed most are long-term residents aged 40 or older with an average of three persons per household and total weekly incomes of less than $400.
Twenty-three percent of interviewees did not provide information on their legal status, and only six percent of residents that did were undocumented.
The largest grouping, 32 percent, held work permits, and 21 percent of interviewees had permanent residency, survey findings revealed.
Bahamian residents stood at 15 percent, and three percent of interviewees had a spousal permit.
The survey was conducted in ten shanty towns over a four week period from Elizabeth, Carmichael (Garden Hills), and Golden Isles constituencies, and with the help of 60 enumerators from various governmental agencies.
The eviction deadline angered Rights Bahamas. The organisation said it now had evidence to take "constitutional action" against the government over the timeline mandating the eviction of shantytown residents, arguing the decision was discriminatory.
Stephanie St Fleur, president of the activist group, branded the move "ethnic cleansing" saying it contravened certain articles of the Bahamas Constitution.
Last week, Ms St Fleur said she was surprised by the news of a deadline. She has also voiced concern about the living facilities of residents post demolition.
However, Haitian Pastors League President Dr Jean Paul Charles told The Tribune yesterday he had no issues with the deadline because in his view it gives sufficient time for shanty town dwellers to find alternative housing.
He said he had known of the government's date to vacate since February.
The deadline was first made public in The Tribune's report of an interview with Labour Minister Dion Foulkes, chairman of the government-appointed shanty town committee.
Dr Charles said the only challenge was some families may find it difficult to financially afford what is required to rent accommodations. This, he said, was raised with government officials. But the Minnis administration has said they are not willing to assist in this regard, Dr Charles said.