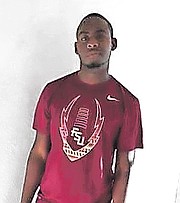 BY DENISE MAYCOCK
Tribune Freeport Reporter
dmaycock@tribunemedia.net
Grand Bahamas' West End community was in a state of shock yesterday after an early morning traffic accident left a young man dead on Queens Highway, the island's seventh fatality for the year.
Although police have not yet released the victim's name, The Tribune understands the deceased is Devon "Vonnie" Poitier of the Big Yard in West End.
The accident happened shortly before 7am in the area of Pelican Lakes when a silver-coloured 2008 Honda Fit driven by Poitier crashed into a utility pole.
ASP Terecita Pinder said the vehicle sustained extensive damage. "The vehicle collided with a utility pole and separated on impact, and the male driver died at the scene," she reported.
Relatives, including the victim's mother, went to the scene after learning news of the tragedy.
Morticians were called in to remove the victim's body. A tow truck was also summoned to remove the wreckage from the bushes and large pieces of car debris scattered in the area.
Pakesia Parker-Edgecombe, MP for West Grand Bahama and Bimini, was also at the scene and offered her support to distraught family members.
She said the victim was a "striving" young man from the West End community.
"My heart goes out to the family, said Mrs Parker-Edgecombe. He was a striving young man, well mannered, loved and known by many in West Grand Bahama.
"It's a sad day for us all. We are uncertain as to what lead to the traffic accident at this time and while police investigations are underway, as a community, I do believe long standing issues involving our streets in West Grand Bahama must be addressed, and it will be," she stated.
The Grand Bahama MP said she was very concerned about the number of road deaths on the island.
"We are losing way too many lives, said Mrs Parker-Edgecombe. "As the representative for the area, along with community leaders and constituents, I am committed to ensuring that we put in place necessary road safety measures while spreading the message of road safety."
Investigations are underway into the accident. In the meantime, police are again urging motorists to drive within the speed limit and to buckle up.
ASP Jeremy Henfield, officer in charge of the Traffic Division, said this latest incident is the seventh traffic fatality on Grand Bahama for 2018.
On Saturday, a woman was killed when a GMC truck in which she was a passenger crashed into a tree on East Mall Drive and Explorer's Way around 4am.
Police are withholding her identity pending the results of an autopsy.