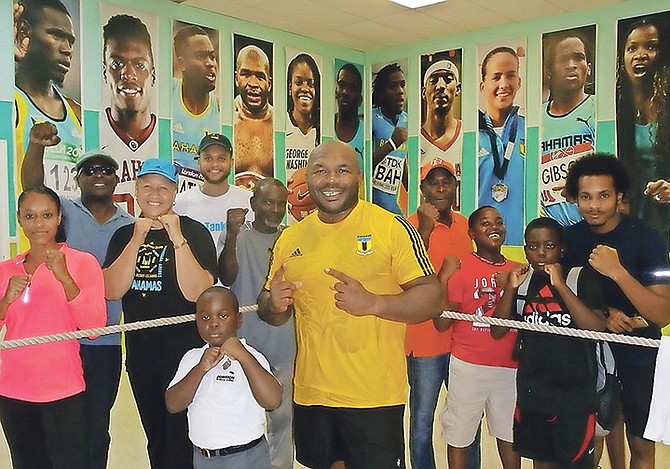 By DENISE MAYCOCK
Tribune Freeport Reporter
dmaycock@tribunemedia.net
BAHAMIAN pro-boxer Sherman 'The Tank' Williams is back home in Freeport from a Florida training camp ahead of his headline fight in the nation's second city this weekend.
The Tank, and his wife, Kimberley, of Bahamian Sons Promotion, are hosting their first event, 'Backyard Rumble' on Saturday, May 26 at the Social Affair Convention Center. He will take on former WBA FedeCentral champion Epifanio "Diamante" Mendoza (43-26) of Colombia.
Three Bahamian amateur fighters will also make their professional boxing debut at the showcase. The official weigh-in will be at Pirate's Cove on Taino Beach on Friday.
The Tribune caught up with The Tank this week during his first public workout session at the YMCA, where he also took time out to engage and take photos with the youngsters there from the Karate and Swim Clubs.
"This is where it all started for me many years ago," he said, of the YMCA where he first got involved in the boxing programme as a kid.
After five weeks in training camp in Florida, Sherman is feeling great and looking forward to an exciting fight right in his backyard here in Grand Bahama.
"It is a pleasure to be back home where it first started - I am feeling good, and I am feeling great, he said, following a light work-out session of shadow boxing.
"I was in training camp for five weeks and rather than staying in Florida, I thought it was imperative to get home early and finish my training here at the Y," he said.
This week Sherman is doing some light workout with a little bit of running in the mornings and light shadow boxing.
Reminiscing on his earlier years, Sherman said the YMCA continues to play an essential role in youth development on Grand Bahama.
"This is where it all started for me many years ago right here because there was nothing to do. Where we are standing now was the skating rink. The YMCA was the only thing you had to do on the weekend, and I started with the boxing programme, and it took me all over the world, and I won multiple championships," he recalled.
The Tank (39/15/2) the is Bahamas Heavyweight Champion, former WBO China Zone Asian Pacific, WBF World Title, NBA World Title, WBA FedeCaribe, and WBC FedeCaribe.
Mendoza, 42, also holds the WBO Latino and WBC Latino titles.
Sherman said that Bahamians would not want to miss the 'drama in Grand Bahama.' "All I can say is come I Saturday, May 26, the 'conch punch' will on display; I expect all Grand Bahamians to be here," he said.
Sherman said that Freeport has been struggling for a long time and his goal is to get Grand Bahama back on the map.
At this point in his professional career, Sherman has decided to use his connections to get an association going in Grand Bahama to try to train some referees and officials.
Bahamian Sons Promotion, he said, plans to hold many more fights in the future.
"There has been a lot of talks, and I get emails every weekend talking about investing in GB. I made a conscious decision to make that move, and I think that this Saturday will be the first of many fights to come, and the eventual goal is to have television here by November," Sherman said.
"Hopefully, there is a casino or hotel or something open by that time that can hold a large televised event. But our goal is to move forward with GB and most importantly to leave a real social benefit."
"You know Freeport has been pimped out with these concerts and other things that don't leave anything behind for young Bahamians. This event by Bahamian Sons Promotion is a Bahamian event; we will have three amateur fighters from Nassau that is turning professional on this showcase, and I think this will be the start of a bright future for GB."
Rasheed Williams, Tyrone Oliver, and Justin 'Psycho' Sawyer, also out of Nassau, will be making their pro-debut.
Jonathan Pierre, aka 'Haitian Sensation fighter out of Port-au-Prince, and Port St Lucie, Florida, will be fighting Anthony Woods from Nassau.
Chris Vendola (8/6) of the USA will fight Yendris Valdes (2/2), from Havana, Cuba. And Bahamian Amron Sands (2/0) of Orlando, FL, will take on Jerry Butler (9/13/1) of Nassau.
"So, there will be five exciting bouts, and we will have a live Bahamian band," said Sherman.
Asked how he felt about the revival of the sport of boxing in the Bahamas, particularly in Grand Bahama, he said: "It is long overdue. We have a rich history of boxing and a lot of people don't know before we had the Golden Girls, people like Tommy A Robinson, and all these (other) people, the champions from the Bahama were in boxing like Elijah Obed, Gomeo Brennen, Yamaha Bahama. People forget about these legends, and nobody even talks about these guys, he said.
Sherman believes that there is also the potential for Bahamians in the UFC and MMA fighting.
"The potential is here, and we are looking to reach the community in a big way," he said.
As a gesture after his fight, Sherman is offering pay for membership for two months at the YMCA for 20 kids (girls and boys) on Grand Bahama.