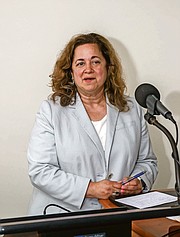 THE Ministry of Health and the Public Hospitals Authority are exploring opportunities for sustainable collaborations with Johns Hopkins International.
Minister of Health Dr Duane Sands met with managing director of global services at Johns Hopkins Medicine International (JHMI) Irma Purish to explore engaging and sustainable models of patient-centered care that allow for innovative collaboration and raise the standard of care delivered.
Ms Purish toured Princess Margaret Hospital, met with the Public Hospitals Authority Board, and senior exectuves of the PHA and delivered a presentation on JHMI's presence in Latin America and the Caribbean.
Additionally, she outlined services offered to their international partners which include: core services; patient services and global services. Deputy chairman of the Board of the Public Hospitals Authority Robert Carron spearheaded the meeting as chair of the Board's Strategic Planning, Infrastructure, Institutional Redevelopment and Public Relations sub-committee.
Johns Hopkins Medicine International (JHMI) is a partnership programme established by the Johns Hopkins School of Medicine to raise the standard of health care through long-term mission-driven agreements.