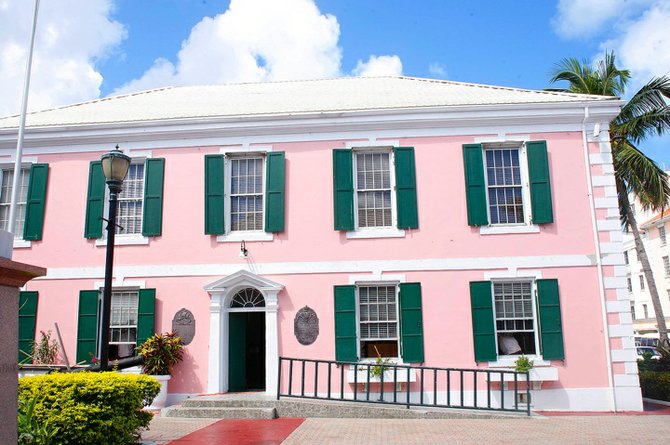 By NEIL HARTNELL
Tribune Business Editor
nhartnell@tribunemedia.net
Governance reformers yesterday called for increased web shop taxes in tomorrow's Budget, coupled with 5 per cent annual spending reductions through 2023, to avoid a fiscal crisis.
Robert Myers, the Organisation for Responsible Governance's (ORG) principal, warned that imposing new and/or increased taxes on the economy's productive sectors and consumers would lead to "a disaster" and throw all hopes of increased Bahamian GDP growth "out the window".
Yet he argued that web shop gaming was the one industry able to bear increased taxation due to its "exceptionally high margins", accusing that sector of having "gotten away with murder" when the Christie administration proceeded to ignore the results of a referendum/opinion poll and legalise it anyway.
Mr Myers said the proceeds from increased web shop taxation should be used exclusively to finance education reforms, arguing that the 'D-' grade average and poor public education system graduation rates were a key impediment to greater economic growth and productivity.
While urging the Minnis administration to focus on cutting its recurrent (fixed cost) spending, such as the $745 million civil service wage bill, the ORG principal said this did not require "rash" or "dire action" such as an immediate 30 per cent cut to the public sector workforce.
He directed the Government to strike a 'balance' between economic growth and fiscal consolidation, as achieving the former would enable the private sector to absorb workers let go by the public sector. But GDP expansion, Mr Myers reiterated, requires intensive focus on improvements to the Bahamas' costs and ease of doing business.
The ORG chief's comments came amid predictions of a 'doom and gloom' austerity Budget by the Government's political opponents, who are forecasting that that the Minnis administration will be forced into a Value-Added Tax (VAT) rate rise and numerous other tax increases to deliver on its election commitments and promises.
Philip Davis, the Progressive Liberal Party (PLP) leader, also forecast the introduction of new taxes to enable the Government to finance capital works projects deferred from 2017-2018, plus a reduction in spending and sell-off of assets to cover any deficits.
"For a Government without a real growth agenda, this is a bleak outcome and a recession-inducing Budget," he argued of the upcoming 2018-2019 fiscal statement.
"However, it is unavoidable, and although the Budget Communication would include the usual soaring oratory flourishes, behind those words would be a grim picture - and it would grow grimmer as we traverse the fiscal path outlined by this Government."
K P Turnquest, Deputy Prime Minister and minister of finance, declined to take the bait dangled by Mr Davis and the PLP. "The Budget will be presented on Wednesday and all answers will be given then," Mr Turnquest told Tribune Business yesterday, not saying anything further.
However, highly-placed sources suggested that Mr Davis may be on to something with some of his Budget forecasts. One, speaking on condition of anonymity, even suggested information may have been leaked from inside the Government to the Opposition.
"What's very concerning is the content of some of his comments," they said of the Opposition's attempt to 'steal the Budget's thunder'. "It raises the question of security. It's awfully, awfully suspicious."
Mr Turnquest, himself, in an address to the Institute of Internal Auditors last week, pledged that there will be "no runaway spending" in a 2018-2019 Budget that will make the "hard choices" to get a $300 million-plus annual deficit and near-$8 billion national debt under control.
Promising that the Budget will embrace the principles set out in the draft Fiscal Responsibility Bill currently undergoing public consultation, Mr Turnquest said: "In the national budget you will see us make hard choices to lower our debt levels.
"You will see us make responsible choices to arrive at a more sustainable fiscal balance. And you will see us embrace the idea of transparency and accountability in a way no other government has done before."
Such language will likely be interpreted by some as a bid to prepare the Bahamian public for a combination of new and/or increased taxes, and spending cuts, as the Government bids to both hit the Fiscal Responsibility Bill's targets and put the public finances back on a sustainable footing.
While the Minnis administration will likely seek to deliver on its Over-the-Hill 'tax free zones'; removal of VAT from 'breadbasket' food items, utilities and healthcare; and 'breadbasket' reforms, these are not the major pressures the Government is facing.
Rather, it is the extent of the 'fiscal adjustment' required to meet the targets set in the Fiscal Responsibility Bill, which was pegged by the International Monetary Fund (IMF) as equivalent to 2.25 per cent of GDP - some $240 million.
The Fund, in its latest Article IV report, said this was required to hit a fiscal deficit equal to 0.5 per cent of gross domestic product (GDP) by 2021 - the goal set by the Bill.
The Fiscal Responsibility Bill's key targets require the Government to slash the fiscal deficit to 0.5 per cent from 2020-2021 onwards, slashing it from a sum equivalent to 5.8 per cent of GDP in the 2016-2017 Budget year. This means reducing it from near $700 million to around $54 million.
The Bill's 'first schedule' sets out a 'glide path' or 'road map' for achieving this, acknowledging - as the IMF stated - that "significant fiscal adjustments" are needed over the next two Budget years to hit this objective.
To enable the public sector and wider Bahamian economy "to achieve the fiscal objective in an orderly manner", and avoid unnecessary shocks, the Bill calls for 2018-2019 and 2019-2020 deficits that "shall not exceed" 1.8 per cent and 1 per cent of GDP, respectively.
With the 2017-2018 deficit thought to be close to the Government's $323 million target, achieving the 2018-2019 target set by the Bill - based on current real GDP numbers - would require that the 'red ink' be cut to around $200 million.
This, in turn, requires a significant $123 million year-over-year deficit reduction that can only be achieved by revenue increases, spending cuts or a combination of both.
ORG's Mr Myers, though, warned that new and/or increased taxes would likely "destroy confidence" among businesses and consumers unable to bear an increased burden - one industry excepted.
Suggesting that the Government would wave goodbye to any hopes of increased economic growth should it chart this course, Mr Myers told Tribune Business: "If you increase taxes now just as we're trying to get the economy moving you're going to slow it again, and that will be a disaster.
"People don't have it to give you. You're going to push them into the poverty line, and ruin consumer and investor confidence. It's the wrong thing to do. The big thing is: Have they managed to cut recurrent spending and lower the deficit? From a Budget standpoint, if they're talking about increased taxes something has come off the rails somewhere."
Mr Myers argued that the Government's revenue-side efforts should be focused on enforcement, compliance and administrative efficiency, and the exploration of new income streams such as airplane 'overflight' fees that did not burden the domestic economy.
"If the Government wants to raise more revenue, get off your backside and earn it," he said. "Don't tax us more because you can't do your job. Go after those that are not paying, businesses that are not legal. Don't come back to me for more money.
"You can be damn sure they'll lose the election if they raise taxes. At that point, nobody will believe a word they say. Business and consumer confidence will go out the window. They can't keep taxing."
Apart from the web shop industry. "If you want to tax the gaming industry more to get money for education that's what you should be taxing," Mr Myers told Tribune Business. "They're operating in a super high-margin business, with nobody else anywhere near those kind of margins.
"They have exceptionally high margins, and got away with murder. The people said no, the then-government forced it to a yes, and they should be taxed more or we put in a National Lottery. Education has got to move. We need better education, and are not going to move GDP unless we educate people."
Gaming house operators are currently required to pay 11 per cent of their taxable revenue or 25 per cent of earnings before interest, taxes, depreciation and amortisation (EBITDA), depending on which one is greater. The sector has already argued against further taxation, asserting that it is paying its fair share.
Mr Myers, meanwhile, said the Government would achieve "a significant turnaround" if it targeted an annual 5 per cent recurrent spending cut over the next five years and managed to combine this with GDP growth.
"We don't have to fire 30 per cent of the staff," he told Tribune Business. "Once we start to grow the economy a little bit we can move those people [in the public sector] to the private sector and nobody gets hurt. It doesn't have to be dire action. We don't have to do anything rash."