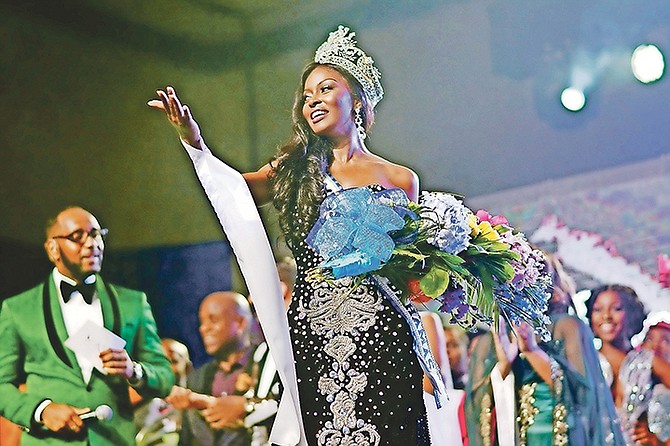 By ALESHA CADET
Tribune Features Reporter
acadet@tribunemedia.net
She is an entrepreneur who also models, paints and bakes. And now Brinique Gibson has been given her most important role to date – to represent her country on the world stage as the new Miss World Bahamas.
The 22-year-old, who competed under the banner of Miss New Providence, beat out the nine other contestants to be crowned in the pageant finale on Sunday night at Atlantis.
It was like a fairy tale ending, Brinique told Tribune Woman, describing the moment she her heard name being called as the winner as unreal and dream-like.
"I think I was even more emotional that morning before the show, thinking about what could possibly happen. I cried thinking my name could be called and even visualised putting the crown on my head. Then when it actually happened, I was extremely humbled, happy and proud. I made my family and my supporters proud," she said.
Throughout the pageant, Brinique said she followed a key piece of advice she received from family and friends: to just to be herself. She said those around her were certain that if she could only remain true to herself, she would be successful.
Becoming a pageant queen has been a years-long dream of Brinique's.
"This was something that I always wanted to do. So I felt like I embodied the qualities the organisation was looking for, both locally and internationally. I decided to take a step forward and offer myself for the crown. And also, 'Beauty with a Purpose' is something that I believe in and it is something that I have lived throughout the majority of my life, working with several organisations prior to entering the pageant," she said,
Described as a "Jack of all trades" by her friends, Brinique says she loves to cook, bake, paint and experiment with makeup. In addition to modelling, she has also done voiceover and public relations work. And she's always open to new ventures.
"I was an inquisitive child who was always asked 'why' to life's questions. I am the eldest of three children and I love my brother and sister so much. My parents were disciplinarians who taught us values and principles. I participated in many extracurricular activities at school and at church, which I believe had a great deal to do with my confidence level and willingness to compete and win," she said.
Brinique's pageant platform is "Promote Healthy Living Through Diet and Exercise".
"One of the things I'm hoping to achieve is with partnering with different organisations so I would be able to sensitise the public to the fact that in order to live a long life, healthy eating and exercise are important. And these are things they have to incorporate into their daily lives," she said.
As she prepares to take part in the international Miss World competition on December 8 in Sanya, China, Brinique is already researching everything she needs to know about the East Asian country.
"This would be my first time in China so I am extremely excited and I am looking forward to the experience. I have seen a lot of photos of past competitions held in China so I am counting down the days until December. I love to travel and I also enjoy meeting new people. I think that with this experience it would bring about more opportunities for me to see the world and promote myself, and grow as a person and as a business owner. Shopping is also something I would like to do while over there, as well as learn some Chinese phrases. Hopefully I won't be too lost when having a conversation," she said.
Brinique is certain that with the necessary preparation she will stand a good chance at being the first Bahamian to bring home the Miss World title.