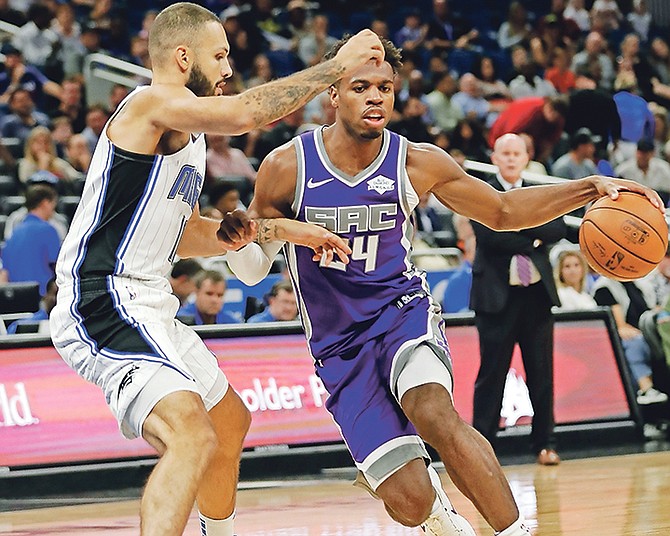 By RENALDO DORSETT
Tribune Sports Reporter
rdorsett@tribunemedia.net
BUDDY Hield has been on a torrid stretch during the final week of October and his latest performance produced one of the best all-around games of his career and a fourth win for his Sacramento Kings.
Hield finished with a season high 25 points and a career high 11 rebounds in the Kings' 107-99 win over the Orlando Magic at the Amway Center in Orlando, Florida, on Tuesday night.
It was his fourth straight game scoring at least 20 points and was also the first double double of his NBA career. Hield shot 9-15 from the field, added three assists and was a perfect 6-6 from the line in 39 minutes.
"Just trying to help the bigs out rebounding. That effort shows on the stat sheet. We need extra bodies down there and once I get it we can push the ball and that makes us harder to guard if me or Fox gets it out on the break and people fill the lanes or spots up to shoot it."
The Kings outrebounded the Magic 51-48 on the evening. It was the third time in four games that they have posted 50 or more rebounds in a game.
Hield scored six points in a 13-2 run to close out the third quarter, and the Kings held on to match their longest winning streak since February 2017.
"We had a great training camp, it didn't show in the preseason at times, but we know what we're capable of doing," Hield said. "It just takes a while until we click and we're clicking at a good time, so we just have to keep rolling and playing together."
Hield's jumper with 1:28 left to play gave the Kings a 10-point lead (101-91). "We got six stops in a row," said coach David Joerger, referring to a three and-a-half minute sequence after their 13-point lead was cut to three. "We had to get some stops and we got those stops. We locked back in and made some plays."
Since he posted a season low five points in an October 23 loss to the Denver Nuggets, Hield has averaged 23.2 points and 7.8 rebounds while shooting 43 per cent from three-point range in 38 minutes per game.
The Kings have also won four consecutive games in that time span. The last time the team won four straight was February 14, 2017. "It shows our poise, it shows our maturity, we're just going to keep learning as we go. I can't lie to you, we've never been in this situation before, but it's fun to see us have coach call a play and we execute. Even when we don't execute we've been figuring a way to get it going and get in our spots to get continuity in our offence," Hield said. "We just have to stay humble, we can't let this get to our heads. Stay in the film room, watch film, try to fix our weaknesses and, most of all, have fun. We have to have fun, this is our job. The fans' spirit has been down for a while so we have to try to build it back up."
Following the Nuggets game, Hield had 23 points and seven rebounds in a 97-92 win over the Memphis Grizzlies. He followed with 22 points and five rebounds in a 116-112 win over the Washington Wizards and 23 points and eight rebounds in a 123-113 win over the Miami Heat.
"Next guy up is our mentality. The next guy makes the right play and we play for each other. We use our playmaking ability to our advantage and we grow just by seeing each other succeed on the court," Hield said. "It started in the offseason. We came in with the mindset that we have to mature, grow up and buckle down the last five minutes of the game. We still make mistakes down the stretch, we just have to keep learning to make it work."