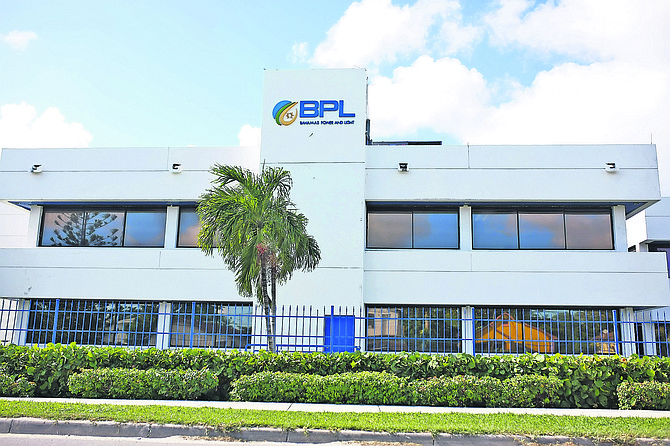 By AVA TURNQUEST
Tribune Chief Reporter
aturnquest@tribunemedia.net
THE country was said to be one step closer to lower energy bills and more stable electricity generation with the signing of a memorandum of understanding between Bahamas Power and Light and Shell North America for an integrated LNG gas-to-power project.
However, it is not clear whether consumers will feel the impact of the corporation's transition to liquefied natural gas (LNG) this term as the project, which features a 220-250 megawatt (MW) power plant is not slated to be completed until the "early 2020's".
Shell officials were also unable to offer any estimates on how much it planned to invest on the project, stating it was too early to tell.
"In terms of starting construction," Mr Moxey said, "it won't start until after the PPA has been negotiated, all of the environmental studies, impact assessments, environmental plans have been done. Everything is done in accordance with the planning and subdivisions act and we follow all those processes.
He continued: "And so the hope for us is that we get construction started soon enough so that we can have the plant online by the early 2020's. Our target goal is sometime before or around 2022 but you never know what may delay the project moving forward."
Shell, the project developer and independent power producer, will absorb the costs of developing marine infrastructure, and constructing the gas pipeline, LNG terminal and new power plant, according to BPL Chairman Donovan Moxey, who said negotiations will now turn to locking down commercial agreements over the supply rate.
Mr Moxey said negotiations over the power purchase agreement (PPA) will like take around three to four months.
"The MOU (Memorandum of Understanding) is the first step towards a desired long-term power generation pact between BPL and Shell," Mr Moxey said, "and bringing strategic change to electricity generation and supply in New Providence. The goals are to achieve cleaner power generation, lower cost fuel sources, and a reduction in the cost of electricity generation."
In the interim, Mr Moxey said the corporation is considering additional assets for the Clifton Pier Power Plant to help stave off load shedding that has become typical of the summer months.
Electricity bills have doubled, and in some cases tripled, for consumers following the series of fires at the Clifton plant that have forced the corporation to rely heavily on its Blue Hills plant to meet generation demands. The Blue Hills plant uses a more expensive fuel mix, Mr Moxey said, noting it requires a higher concentration of automated diesel oil (ADO).
Mr Moxey said BPL was still conducting damage assessments at the Clifton site but had a timeline of early summer to bring more assets online.
While the Shell plant will have an output of up to 250MW, the peak-load requirement for New Providence is around 260 MW. Mr Moxey explained the corporation will still keep some generation assets to maintain "spinning reserves".
"We will still have some generators," Mr Moxey said, "albeit they will not be primarily the generation we use to provide power, but we will still have some generation capacity.
"Post-2022 our primary fuel source will be LNG because the other plan that we have is to also retrofit and adapt our generation assets in the Family Islands as well as the ones that we have here in New Providence to run LNG as well.
"And so what would happen those generation assets will be dual fuel generation assets. What we're looking at is to have the duel fuels to be either LNG or the heavy fuel oil which is the least expensive."
Mr Moxey said he could not provide an estimate on how much it will cost to carry out the overhaul as the corporation is still evaluating studies for the most cost-effective way to implement its retrofitting programme.
The signing on Friday follows months of speculation as the agreement was initially slated for signing on August 3, but was reportedly sidelined by a BPL boardroom battle that resulted in all directors on the former Board resigning or being removed.
The MOU was signed with Shell Gas & Power Developments BV, and its Country Chairman for English and Dutch Caribbean Mark Regis said the company was proud to have been selected to advance development of a gas to power plant.
Shell was flagged as an LNG pioneer, and a leading industry player with interests at every stage of the value chain, from findings fields and extracting gas to shipping and distribution.
Likened to cooking propane, LNG is billed as a safe, less volatile fuel source that has proven to be on par with other fuels in terms of risk, but more environmentally friendly, and immune from volatile oil price fluctuations making it a more economic source of energy by comparison.