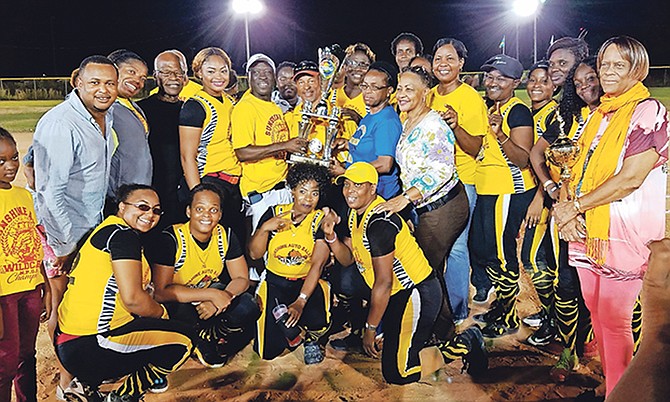 By BRENT STUBBS
Senior Sports Reporter
bstubbs@tribunemedia.net
The New Providence Softball Association champions Sunshine Auto Wildcats capped off a perfect run over the weekend to win the Bahamas Softball Federation's 2018 Eddie Ford ladies' national title.
They did it in grand style last night in the Banker's Field at the Baillou Hills Sporting Complex, stopping the Grand Bahama Elite 9 Katz 11-1 in five innings.
In the grand finale on Sunday night, the Wildcats got a perfect 3-for-3 with two runs batted in and three scored from most valuable player Daria Cambridge in the lopsided win.
"I think I performed very well tonight, beside from one little error," said Cambridge, the second sacker. "The game is made up of hits, runs and errors, so I think I performed very well."
Cambridge got the team off to a flying start, scoring three runs, including a two-out in-the-park home run in the second inning and she felt as the "fire starter," it was just a domino effect the rest of the game.
"It feels awesome. This is my first championship ever, so I'm really excited," Cambridge said.
She was assisted by left fielder Tyrice Davis with a 1-for-3 outing with two RBI and two runs scored, shortstop Larikah Russell was 1-for-2 with three RBI and a run scored, third sacker Ruthann Simms was 2-for-3 with a run scored and first sacker Chryshann Percentie was also 1-for-3 with two RBI.
It was a bitter-sweet performance for Russell, who played against her former teammates from Grand Bahama. But she admitted that it was all about the Wildcats.
"Hats off to my team for coming out and just being focused the whole game," stated Russell, who sparked their attack with a three-run single in the first to plate Cambridge, Davis and Lashonda Bethel.
"Winning a national championship is always a great feeling and so I just want to thank our staff for staying with us and believing in us the whole way."
Besides the three runs they scored in the first, the Wildcats added one more in the second and seven in the fourth as they stopped the Katz in five innings.
Before they did, Sunshine Auto put up four more runs in the third as Cambridge had a one-out RBI double and Davis raced around for a three-run in-the-parker.
"I really wanted this one because we had a few girls played for a good number of years and they are planning on hanging it up, so I was glad to get this one for them so they can go out in style like Mary (Cruise) Edgecombe did," said Wildcats' manager Anthony Bullard.
Bullard said they knew once they got their players in the park early and they concentrated on the game, he knew they had the title in the bag.
After the game, sponsor Deanza 'Sonny' Cox brought over a birthday cake for veteran pitcher Linda Knowles as they sang happy birthday. As usual, they celebrated with a lavish feast in the parking lot.
The Elite 9 managed only to get one run off winning pitcher Thela Johnson and that came in the fourth, thanks to third sacker Tara Evans.
Manager Sidney Thomas admitted that it wasn't the type of performance that he expected rom his Katz, who didn't clew at all.
"We didn't hit," he stated, "My team is a hitting team, but unfortunately this trip, the whole tournament, some of my key batters only had one hit the whole tournament.
"The pitching wasn't off the wall because we could hit. Somehow, we couldn't get a handle off the ball and ended up coming out on the bad end of the stick."
Salakia Williams suffered the loss on 12 hits.
• Here's how the games played out prior to the championship:
Grand Bahama Katz 12, Eleuthera Angels 0: The Elite 9 didn't waste anytime with Kazim's, advancing to the final with a shutout in the lone playoff game in the ladies; division on Saturday night.
Shortstop Breshantae Darius went 2-for-3 with a three-run in-the-park home run in a seven-run third inning to highlight their attack.
First sacker Latoya Brown added two hits and scored twice.
Latoya Knowles was the winning pitcher and Debra Symonette got tagged with the loss.
New Providence Wildcats 4, Grand Bahama Katz 3: Left fielder Tyrice Curry-Davis went 2-for-3 and scored a pair of runs to pace Sunshine Auto as they advanced to the championship.
Thela Johnson was the winning pitcher and Salaika Williams suffered the loss.
New Providence Wildcats 8, Eleuthera Angels 3: First sacker Chryshann Percentie went 2-for-3 with two runs scored and drove in another for Sunshine Auto.
Center fielder Lashanda Bethel was 1-for-1 with a RBI and run scored and catcher Donette Edwards was 1-for-2 with a RBI and a run scored to assist in their offensive attack.
Thela Johnson picked up the win and Brizilla Kelly was the loser for Kazim.
Grand Bahama Katz 10, Eleuthera Angels 0: Shortstop Breshantae Darius had a perfect 3-for-3 day with three RBI and a run scored to lead the Elite 9 in their tournament opener.
Designated player Adoniya Bethel had a perfect 2-for-2 day with two RBI and two runs scored and center fielder Banica Russell was 1-for-3 with two RBI to help out in their attack.
Salaika Williams was the inning pitcher and Delena Seymour suffered the loss for Kazim.